Controlled Aggression
Russell Westbrook energy on the court makes the Rockets a contender in the West.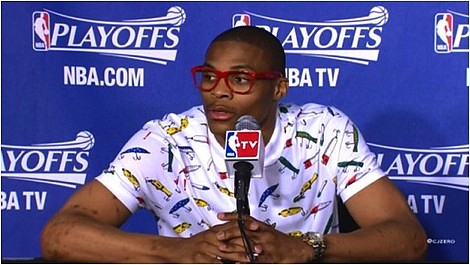 Most fans in Houston were expecting some bumps in the road to start the 2019-20 season when the Rockets acquired former NBA MVP and energizer bunny, Russell Westbrook, this past offseason via trade with the Oklahoma City Thunder. Houston had endured that form of misery when they acquired future NBA Hall of Famer, Chris Paul two seasons ago from the Los Angeles Clippers. Last season they were counted out by the national media when at one point they dwelled at the bottom of the Western Conference before James Harden turned their season around with a plethora of 50-point scoring performances.
Yet, outside of a small three-game losing streak, the Rockets had last month, I feel confident in saying that Westbrook is fitting in just fine and seems to give Houston that confidence it needs to contend with the two teams out in LA (Lakers, Clippers) for the best team in the West. They are currently 21-9 and sit atop of the Southwest Division over the Dallas Mavericks.
"Russell's getting more comfortable with how we substitute, being in a new environment," said Rockets head coach Mike D'Antoni. "It shouldn't be a surprise to anyone that they want to figure it out. Russell's playing great."
That comfortability level has taken a lot of pressure off of superstar James Harden as he is having another MVP caliber season. He is averaging a career high 38.6 points per game, which is seven points higher than reigning 2018 MVP Giannis Antetokoumpo from the Milwaukee Bucks. Having another dominating high energy guard on the floor has also stopped a lot of the double teams Harden was seen earlier on this season by teams that wanted to get the ball out of his hands as quickly as possible.
That defense worked for a while until D'Antoni and his staff came up with a plan to help free up Harden from seeing multiple defenders. That plan wasn't as hard as most would think and it didn't require the head coach to walk down the hall and consult with MIT graduate and general manager of the Rockets, Daryl Morey either. It was very generic.
Put the ball in Westbrook's hands more.
Since deploying that plan, Houston is 10-3 over the last month and Westbrook has been a big reason for that. His numbers are down statistically from his days at OKC, but his mood and temperament have changed dramatically having his childhood friend on the floor with him. He also brings a certain "Aggressive" demeanor to the court that has teammates like P.J. Tucker, Danuel House Jr., Ben McLemore, and Clint Capela following his lead.
"He's been aggressive," James Harden said after a victory over the Phoenix Suns about Westbrook." "Earlier, he was just trying to find his comfort level. I love (Westbrook's) aggressiveness."
The Rockets will face the Golden State Warriors on Christmas Day before heading back to Houston to take on the surging Brooklyn Nets at the Toyota Center on Saturday.