Welcome Home: Andre Johnson Retires as A Houston Texan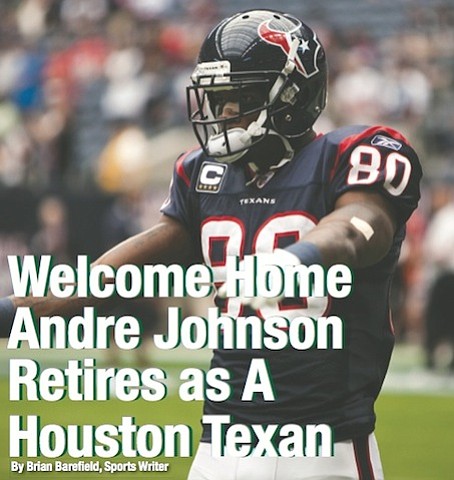 There are certain things in Houston, Texas that will forever be associated with the city. Things that by the mere mention of the name is automatically considered "H-Town certified." Places like Pappadeaux's Seafood Restaurant, The Astrodome, and Gallery Furniture; people like Hakeem Olajuwon, JJ Watt, and Jeff Bagwell are just a few of those places and names. The list is constantly growing and got a little longer this week with the addition of another iconic name to the list, Andre Johnson. The 35-year-old WR hung his cleats up for good by signing a one day contract with the Houston Texans so that he could retire from the franchise that gave him his start in the NFL 14 years ago.
Johnson got a standing an ovation as he entered the room for what would be a very emotional press conference for him. Johnson began by speaking about when he first came to Houston in 2003. "I was coming to a new city," started Johnson who had previously lived in Miami. "Just didn't know what to expect. All I knew is that I was coming here to play football. And the city of Houston embraced me. They embraced me like no other." And Johnson embraced the city right back.
When Johnson came to Houston he took on a great challenge since the Houston Texans were a new franchise. But he was up for it. "I always like to be the underdog. I did everything I could to put this organization on the map," said Johnson. And thought it might not have been his goal, he put himself on the map as well. After a solid rookie season, the sky was the limit for Johnson because of the way he played the game. The seven time Pro Bowler was one of the top receivers in the entire league during his playing days. He undoubtedly was the Houston Texans all-time leader in receptions, receiving yards, and receiving touchdowns.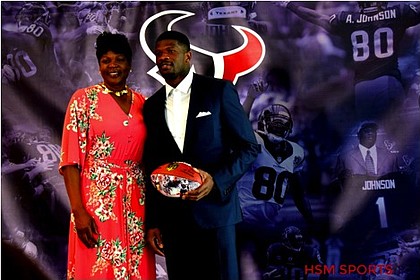 Johnson made a confession about the way he attacked the game of football. "A lot of people didn't know but I played the game of football very angry. And I played that way because of the way I grew up. I never wanted to go back to living that lifestyle again," said an emotional Andre as he thanked his mother for her love, support, and sacrifices she made for him. He went on to thank his Uncle Andre, who was his father figure, the McNair Family, for the opportunities given and the support, as well as his teammates and the fans.
As Johnson reflected on his career, he seemed to have only one real regret with the Texans. "The only regret I have is not helping this organization win a world championship," said Johnson. He then challenged his former teammates to do what he will not be able to do and that is to win him a ring. Memories he made with his teammates will forever be etched in Johnson's heart, as he is now one of their biggest fans. "I'm going to be rooting for you guys. I get to be a fan now," he said. The love Johnson has for his teammates is mutual among the team as many were in attendance at the press conference. In the room were some of his former teammates and coaches that included JJ Watt, DeAndre Hopkins, Brian Cushing, Jadeveon Clowney, Jonathan Joseph, Coach Bill O'Brien, and a host of others. Johnson pledged to always be there for them just don't call him for money. The entire room joined in laughter.