Texas Black Women's Expo Welcomes Ashley Turner, Houston's First Daughter
With Speed Networking Breakfast, EMI Awards Reception, "Black Fashion Week", Children's Beauty Pageant, workshops and more!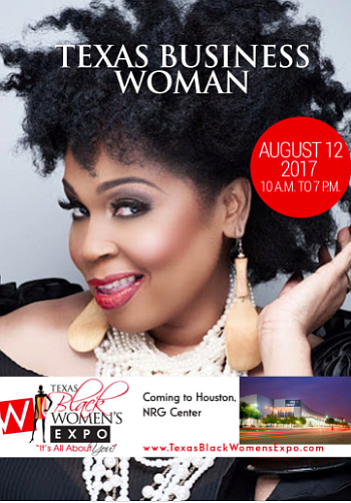 HOUSTON, TX--- Visionary Business Owner and Trichologist, Leola Anifowoshe, is proud to announce the inaugural Texas Black Women's Expo (TBWe) on Saturday, August 12, 2017, from 8:00 a.m. to 7:30 p.m. at the NRG Center. City of Houston's First Daughter, Ashley Turner will serve as this year's Honorary Chair and will do the honors and host the Ribbon Cutting Ceremony to celebrate the grand opening of the Expo. Following the ribbon cutting ceremony, attendees will have the opportunity to see, hear and experience direct economic empowerment through prominent and influential individuals from all over the world.
The Expo is designed to patronize the strength of black women owned businesses and create a direct impact on black economics. With over 30 years of brand-building experience, Anifowoshe is known for evolving entrepreneurs to their greatest potential. The TBWe is a full-day that empowers, enlightens and uplifts African American women and their families with informative seminars and panel discussions presented by notable local and national speakers and lecturers, educational exhibits and corporate displays, and rousing entertainment.
"I am impressed with the Leola Anifowoshe's commitment to helping women, and youth from all walks of life to achieve their full potential. A perfect example of the work they do is the upcoming Texas Black Women's Expo", said First Daughter Ashley Turner. "Whether just starting out, in need of a information or working to maintain an established business, there is valuable information to be gained from connecting with and hearing about the experiences of others. It can be the difference that takes someone to the next level. I am delighted to serve as honorary chair of this year's event."
The Expo bids to take business experiences to the next level, while providing a blueprint for profitable businesses. TBWE will exclusively feature Hollywood actress and businesswoman honoree comedienne Torrei Hart, this year's Education, Motivation, and Inspiration (EMI) awardee, a fashion presentation by Black Fashion Week, the annual Little Miss "Happy" Head Beauty Pageant. Guest speakers include successful women business owners Clerenda McGrady, Dr. Chyna Bethley, Charlie Macol, Cheryl Wood, Tony Harris Taylor and many more!
"I'm extremely excited to have Torrei Hart as my new partner in Heavenly Hart Haircare and Cosmetics," states Anifowoshe. "It's an honor to work with such a great spirited and authentic person. I am looking forward to the substantive and thought provoking Hart to Heart Talk she will have with every attendee at the TBWE."
For more information on tickets and vendor booths, visit http://texasblackwomensexpo.com.
For Little Miss "Happy" Head Beauty Pageant registration, visit The Hair Vitamin Store; 3727 Greenbriar Dr., Stafford, TX 77477, Suite 109b or visit http://texasblackwomensexpo.com/pageants. Email Astoria Stubbs TheIamQueen@gmail.com or Topaz Williams tanwilliams77004@gmail.com.