AboutThatCar.com: 2018 Hyundai Sonata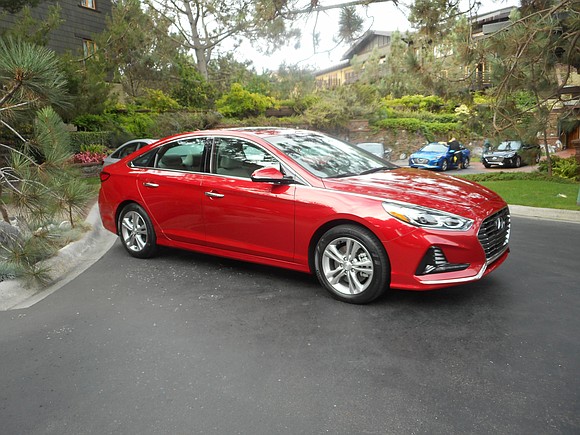 By Frank S. Washington
TORREY PINES, Calif., -- There was a 2018 Hyundai Sonata on display in front of the hotel here. We could tell it was a Sonata but it was crisper, sharper, and more contemporary than the current model.
In their restyle of the Sonata, Hyundai's designers gave it a cascading grille, what they called an assertive profile and an entirely new rear end that was rounded off with slimmer tail lights.
They wanted to make a visual impact and the new midsized Sonata for 2018 sedan looked like they succeeded.
Adaptive LED headlights are available and the face of the new Sonata is now distinguishable by vertical LED daytime running lights that looked like the service bars on a smartphone. The badge on the trunk was bigger and designers hid the trunk lock there.
Hyundai made improvements under the skin too. They stiffened the steering torsion by 12 percent for better handling. And a new calibration focused on better response to driver input.
Engineers have gotten 245 horsepower and 260 pound-feet of torque out of the 2018 Sonata's 2.0-liter turbocharged four cylinder engine. It was mated to an eight-speed automatic transmission.
There is also a 2.4 liter four-cylinder that makes 185 horsepower and 178 pound-feet of torque. It was mated to a six-speed automatic transmission. The 1.6-liter turbo will make 178 horsepower and 195 pound-feet of torque. It will be mated to a seven-speed dual clutch automatic transmission. It goes on sale in late summer and was not part of the launch program. The 2.0 and the 2.4 liter Sonatas are on sale now. There will also be a hybrid and a plug-in hybrid Sonata; both will go on sale in early 2018.
First up for us was a 2018 Hyundai Sonata Limited 2.0T. After we found our way out of the parking lot, it was harder than it sounds, we headed north towards Los Angles for 15 minutes and then we turned east and headed inland. The front-wheel-drive Sonata handled the swerves and curves of the road with no problem.
The dash was not cluttered by a lot of stuff. The center stack has given way to a more horizontal layout. The information screen was on top, there was a slender ban of audio control buttons beneath. But there was some distance between the two. This in no way looked like a single unit and the climate controls, with space between, was beneath that.
Each control center had a chrome bezel around it. Hyundai said it was an effort to showcase the Sonata's technology. The vents did not have bezels around them. Dual 12V sockets and a USB and auxiliary jack were beneath the climate controls.
The car was quiet and the work Hyundai did on the 2018 Sonata's suspension, especially in the rear, was evidenced by a relatively smooth ride on rather rough roads like Historic U.S. 101 and Sunrise Highway.
As we climbed through the hills towards Julian for lunch, we were struck with the handling of the car. It stayed centered, it cornered well and it was not hard to turn. Though this was a Limited edition Sonata, the steering wheel was thick like a sport steering wheel and it felt good in our hands.