AboutThatCar.com: 2018 Hyundai Sonata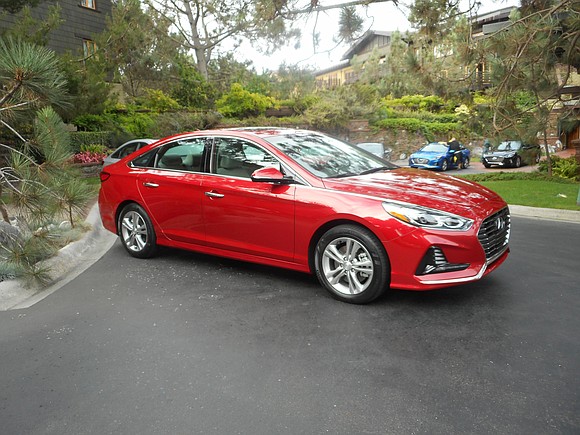 By Frank S. Washington
TORREY PINES, Calif., -- There was a 2018 Hyundai Sonata on display in front of the hotel here. We could tell it was a Sonata but it was crisper, sharper, and more contemporary than the current model.
In their restyle of the Sonata, Hyundai's designers gave it a cascading grille, what they called an assertive profile and an entirely new rear end that was rounded off with slimmer tail lights.
They wanted to make a visual impact and the new midsized Sonata for 2018 sedan looked like they succeeded.
Adaptive LED headlights are available and the face of the new Sonata is now distinguishable by vertical LED daytime running lights that looked like the service bars on a smartphone. The badge on the trunk was bigger and designers hid the trunk lock there.
Hyundai made improvements under the skin too. They stiffened the steering torsion by 12 percent for better handling. And a new calibration focused on better response to driver input.
Engineers have gotten 245 horsepower and 260 pound-feet of torque out of the 2018 Sonata's 2.0-liter turbocharged four cylinder engine. It was mated to an eight-speed automatic transmission.
There is also a 2.4 liter four-cylinder that makes 185 horsepower and 178 pound-feet of torque. It was mated to a six-speed automatic transmission. The 1.6-liter turbo will make 178 horsepower and 195 pound-feet of torque. It will be mated to a seven-speed dual clutch automatic transmission. It goes on sale in late summer and was not part of the launch program. The 2.0 and the 2.4 liter Sonatas are on sale now. There will also be a hybrid and a plug-in hybrid Sonata; both will go on sale in early 2018.
First up for us was a 2018 Hyundai Sonata Limited 2.0T. After we found our way out of the parking lot, it was harder than it sounds, we headed north towards Los Angles for 15 minutes and then we turned east and headed inland. The front-wheel-drive Sonata handled the swerves and curves of the road with no problem.
The dash was not cluttered by a lot of stuff. The center stack has given way to a more horizontal layout. The information screen was on top, there was a slender ban of audio control buttons beneath. But there was some distance between the two. This in no way looked like a single unit and the climate controls, with space between, was beneath that.
Each control center had a chrome bezel around it. Hyundai said it was an effort to showcase the Sonata's technology. The vents did not have bezels around them. Dual 12V sockets and a USB and auxiliary jack were beneath the climate controls.
The car was quiet and the work Hyundai did on the 2018 Sonata's suspension, especially in the rear, was evidenced by a relatively smooth ride on rather rough roads like Historic U.S. 101 and Sunrise Highway.
As we climbed through the hills towards Julian for lunch, we were struck with the handling of the car. It stayed centered, it cornered well and it was not hard to turn. Though this was a Limited edition Sonata, the steering wheel was thick like a sport steering wheel and it felt good in our hands.
These two lane words were tight, the ascent was steep and at times there were switchbacks. Although the handling was great, what really struck us was the power of the engine.
We've heard that for every thousand feet, an engine loses 10 percent of its horsepower. That's where torque comes in. The 260 pound-feet of power to the pavement put down by the 2.0-liter turbocharged four-cylinder kept engine strain at a minimum and the Sonata Limited got up and over these hills effortlessly. We're talking about climbing up to 4,000 ft.
We had the Sonata Sport on the way back but first we climbed up to 5,000 ft. before we headed back to the hotel. The Sport had the 2.4 liter engine that made 185 horsepower and 178 pound-feet of torque. We heard this engine strain a little on steep ascents but it wasn't that bad.
The six-speed automatic transmission responded well to the speed ups and slowdowns of mountainous driving. In other words, acceleration and braking were good. The eight speed transmission in the Limited also responded well to the hills. Neither transmission slipped or searched for a gear.
In both cars we plugged in our smartphone, not to tap into CarPlay or Android but to charge it. A couple of times music on the phone, like Pandora, came on but we turned it off. The Limited Turbo had a navigation system while the Sport did not. The Limited had a sticker of $33,460 while the sport was $26,210.
Handling in the Sport was identical to the turbo. Impressive was the way that both cars stuck to the road. We think that had much to do with the improvement of the rear suspension.
The 2018 Hyundai Sonata comes chock full of equipment depending on the trim line and the packages. For purest, motor drive power steering is available. The Sonata had satellite radio, voice controls and a premium audio system.
But the wireless charging, heated steering wheel, rear side shades, rear parking assist, a rearview camera, lane keep assists, blind spot warning, stop/start technology, a navigation system, automatic emergency braking and smart cruise control all seem like it belonged on a much more expensive car.
Our Turbo had 18-inch alloy wheels. Depending on the trim line, the 2018 Hyundai Sonata also comes with 16 or 17 or 18-inch wheels. There are six trim limes of the gasoline powered Sonata, the SE, Eco, SEL, Limited, Sport and Limited 2.0T and three engine choices. The sedan ranges in price from $22,050 for an SE to $32,450 for a Limited 2.0T, plus an $885 freight charge. The 2018 Sonata was a lot of car in a relatively small package.
Frank S. Washington is editor of AboutThatCar.com