Eight Houston Area Finalists Vie to Be Named a H-E-B's Primo Pick Product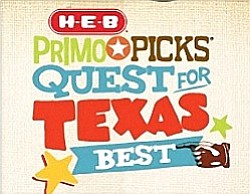 Prepare your taste buds for some new, interesting flavorful combinations that will hit H-E-B stores in the future thanks to their annual competition, H-E-B Primo Picks Quest for Texas Best. Now in its fourth year, the statewide competition is the signature program for the grocer that allows food entrepreneurs to compete for a chance to have their products on H-E-B store shelves. To date, the competition has yield more than 200 new products for H-E-B.
"Quest for Texas Best is an extraordinary opportunity for Texans to feature their products on H-E-B store shelves, and for all to explore and enjoy locally sourced products," said James Harris, H-E-B Director of Diversity & Inclusion and Supplier Diversity. "After all, Texas is home to smart, inventive food entrepreneurs and it's an honor to be on the forefront of their journey to success."
Over 500 budding entrepreneurs from across Texas applied. That field was narrowed down to the top 25 finalists. Out of that 25, eight are from the Houston area. Houston Style Magazine was among the media groups that got an exclusive first taste from Houston's eight at a private meet and eat at H-E-B San Felipe before the next round of judging.
Meet Houston's Eight
*Norka and Walter Nimocks are making juicing refreshing again. Not only are their juices good for you they are good to you. Combing tropical fruits with flavors of cinnamon and ginger, Just Made Foods produces a juice line that taste great and gives back. Five cents from every bottle sold goes to teachers and students in farming communities. Juice flavors are Turmeric Temptation, Dandelion, Delight, Berry Bliss, and Kale Karma. My personal favorite is Turmeric Temptation.
Chilesquiles Foods are making your favorite Mexican entrees better when they are topped off with one of their sauces. Octavio Orozco said the idea behind the product is for home chefs to spend less time in the kitchen and more time with family enjoying the food. There are a couple of sauces in the line and all are good.
Cheezinos is putting a new spin on the traditional cheese ball. These gluten free cheese balls just need to be popped in the oven for a few minutes before devouring them bite by delicious bite. My favorite flavor is cheezino with raspberry jam. Because they are small and bite sizes, you can grab a couple and take them with you wherever.
D'Gusto is trying to make their popular empanadas go from their restaurant tables to H-E-B store shelves. For years people have enjoyed D'Gusto empanadas at Mi Pueblito Restaurant and the Texas school systems. The respond was so highly favorable they decided to take the product further. I tried one of chicken empanadas and it was fiya.
I am always looking for a good snack and Brad and Hannah Montgomery have that snack. Through their company, Couple of Cooks Snacks, they took their tradition Christmas gifts to family and friends and turned it into a family business. The hand crafted snacks come in a variety of flavors. My personal favorites are Chipotle-Chocolate Crunch and the Original Crack Mix. These snacks are highly addictive.