"Texas Impact Launches PSA Campaign Featuring Faith Leaders Speaking Out Against Bathroom Bills"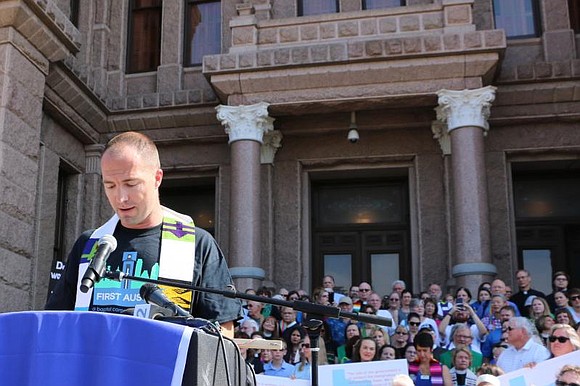 Austin, TX (Aug. 7) — Texas Impact, the Lone Star State's oldest and largest interfaith advocacy network, today announces the launch of a new campaign featuring four public service announcements (PSAs) opposing discriminatory legislation targeting transgender Texans.
The 30-second spots will begin appearing online and on social media this week and feature Christian leaders from across Texas explaining why they oppose the so-called "bathroom bills" being considered by the Texas Legislature.
Texas Impact executive director Bee Moorhead says the PSAs are part of the interfaith non-profit's "Mainstream, Not Extreme: Texas Faith Community Against Discrimination" campaign to correct misperceptions about the faith community's position on the legislation.
"Mainstream faith communities across our state, from the people in the pews all the way up to national denominational leaders, oppose these bills," Moorhead says. "A few extremist individuals who support this legislation have been working hard to convince legislators that they represent the unified voice of the faithful, but that's simply not the case."
Moorhead says conservative Christians, such as Baptists and the nondenominational, are particularly frustrated at being mischaracterized, and that the PSAs feature authoritative voices who can set the record straight.
Two of the PSAs feature the Rev. Dr. Jim Bankston, a well-known United Methodist pastor from Houston. In the spots, Bankston acknowledges that "it can be hard to understand what it means to be transgender," but counsels that Christians are called to love everyone.
Another PSA features Pastor Griff Martin of First Baptist Church in Austin. Martin reflects that as a pastor, he has gotten to know "so many of God's beloved…including God's transgender children." He stresses that all people have equality before God.
Kimberly Shappley, a Houston area non-denominational lay leader and mother of a transgender child, is also featured in one of the spots. Shappley says the bathroom bills run counter to her conservative Christian values and make her fear for her daughter's safety.
Texas Impact is the state's oldest and largest interfaith lobby, representing the shared legislative priorities of Christian, Jewish, and Muslim denominations with a collective membership of more than 5 million Texans.
The PSAs were produced by IC Pictures, an award-winning, Austin-based digital motion media company with credits in commercials, documentaries, TV series, web content, music projects, and feature films.
The four public service announcements can be accessed via Texas Impact's Dropbox link here: http://tinyurl.com/y9ljmx4k
The new PSA campaign comes on the heels of Texas Impact's press conference last Tuesday, Aug. 1st, which featured religious leaders from across the state, opposing the Bathroom Bills at the Texas Capitol. More than 300 Texans from diverse faith traditions attended the event, and (so far) more than 2,300 have signed Texas Impact's open letter to lawmakers opposing the bills. Texans who are interested in signing the letter can still do so here: http://texasimpact.org/Interfaith-Letter-Discrimination