Show Up #LikeAPro in the 2017 GMC Acadia Denali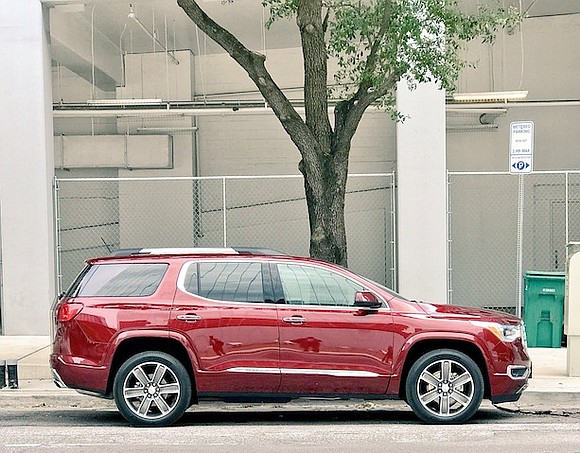 Move over third row competitors, there's a new guy in town! With its slimmer physique, added third row, sharper looks, and safety upgrades, the all-new 2017 GMC Acadia Denali is clearly General Motors way of telling its competitors to sort of back down. Whether you are a single bachelor who hangs with friends on the weekend or a soccer mom who's busy carpooling during the week, there is no doubt that this SUV is a perfect fit for you. Here's a quick rundown of what we like, what we don't and the bottom line from Reggie's Auto Report!
The first thing that is obvious when looking at the new Acadia is the brand new body style. The 2017 Acadia has had a major downsize. The moment you hit a sharp curb or have to make a u-turn in the new Acadia you appreciate the 2017's shrinkage. It maneuvers around neighborhoods and city blocks unlike any other in its class and a noticeable difference from the older body style. Especially with the Denali's 20-inch wheels, the ride is absolutely polished and composed.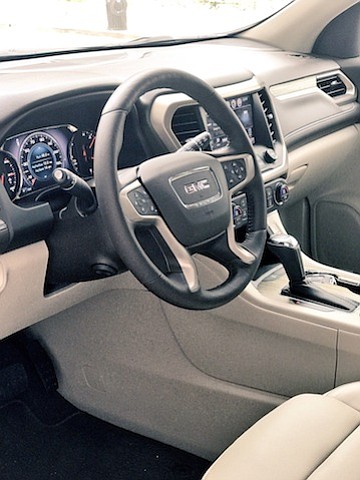 Once you hop inside you will notice one of the greatest advantages of the Acadia is its interior space. The Denali model I tested came with two captain's chairs in the second row instead of a bench (much more appealing) so passengers can sit comfortably without bumping elbows. The third row is a little cramped, but still suitable for small children. Inside you will also notice a very nice interior with soft materials all around and a lot of stitching, which GM always does a great job on. The gauges are well laid out and the instrument panel is easy to read and navigate. There is a driver information center in the middle, which gives you all sorts of information, that is easy accessible and also can be operated from the steering wheel controls.
It's safe to say that the Acadia's performance has everything to do with its new body style. It is a full 7-inches shorter, narrower, shorter in height, and shed 700 pounds. Of course, all that was to make it more fuel-efficient and boost more horsepower. The old Acadia was quite large, but the 2017 is more along the lines with the size of a Dodge Durango or Ford Explorer. Most buyers will likely opt for the 310-horsepower 3.6-liter V-6 Denali model similar to the one I spent a week with. It gets the Acadia moving quickly, hitting 60 mph in as little as 6.5 seconds, and can hit the road with the handling of a sedan with easy highway passing. If the top trim won't work for you the Acadia Denali is also available with a 194-hp 2.5-liter 4-cylinder that (from reports) is actually quite acceptable for everyday driving with a light load pushing 0 to 60 mph in at least 9.3 seconds.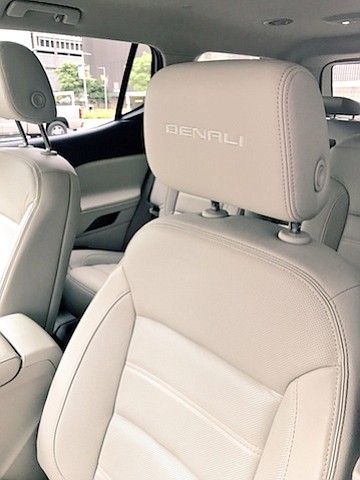 This model came nicely equipped with standard features such as pushbutton and remote start and front and rear parking assist. Another standout safety feature is the driver alert package that vibrates the seat if you stray out of your lane or if the Acadia senses a frontal collision. In addition to lane departure, the steering wheel detects if you are drifting and will guide itself (essentially self driving) until the driver realizes and grabs the wheel. It also comes with low-speed automatic braking; blind spot monitoring; rearview, front view, and 360 surround view cameras; navigation; power lift gate; heated and cooled seats; power tilt and heated steering wheel; and a Bose stereo system, just to name a few.
In closing, General Motors has done a great job with this vehicle. All of the upgrades are impeccable. Besides good EPA ratings of 18-city and 25-highway, it is easier to drive, park, and make a u-turn in. Our tested model was stickered at $52,185, with numerous options, but it is possible, however, to get a base Acadia for around $30,000. Make your way to your local GMC dealership today and test drive the 2017 GMC Acadia Denali. You will thank us later!
For more information, visit www.GMC.com