Boss Kids: Mini Moguls On the Rise in Business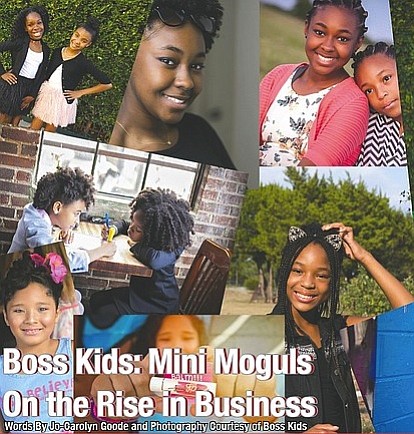 Kid jobs were different years ago. Paper routes, cutting neighborhood yards, and the ever popular lemonade stand were the usual. Kids' goals were fairly simple for raising money. They wanted to buy some toy or game or sometimes even shoes that mom may have said were too expensive. Today's kids would laugh at yesteryear's kids as they are taking businesses started in their tiny bedrooms to the bargaining table inside big boardrooms where they are calling the shots and making deals, pulling in cash, and employing more than just mom and dad. Advancements in technology and the use of social media have allowed today's kids to really develop their business and brand into something big.
Before they make their first million, kids have to put in the initial work to build their brand and business. Houston Style Magazine spotlights a few of Houston's kidpreneurs who are well on their way as they build brand awareness, call the shots, form partnerships, and hold it down as a boss kid.
Layla and Mya Parish – Suga Babes
"Mom, we want to start a sugar scrub business," is what a then ten-year-old Layla Parish and six-year-old Mya Parish told their mother. Her response was that of any supportive parent, "Let's do this." In April 2012, the girls were in business with an online store selling suga scrubs and body mists. It was not until they added the mobile spa service component that their business really took off. While their young clients age 5-13 sip on almond water, the suga architects, someone who strategically designs and creates sweet and amazing things, go into the homes of their clients and spoil them with mini manis, pedis, and facials. The experience is capped off with a toast with their signature beverage, the Sugatini.
Layla and Mya are doing more than just dishing out some really sweet services; they are changing the lives of their clients. "We are grateful to have fun and make money with our parties but if we can inspire other girls to not only dream but take action, we have done what God has called for us to do," the girls said. It does their hearts proud when they hear about previous clients who they have inspired to start their own business and live out their dreams.
Suga Babes is a true family affair with the girls and their mom and have made their bond as mother/daughters even strong. This is why they want to franchise their mobile spa business to other mother/daughter teams. Book your mobile spa party through their website, suga-babes.com.
For more information about Suga Babes, visit
Website: www.suga-babes.com
Instagram- suga_babes
Instagram- bellesfillez
Facebook- The Suga Babes YAY
Blog- www.bellesfillez
Kamryn Johnson and Saniya Symone – Kam & Niya
Kamryn Johnson and Saniya Symone have become a packaged deal. The two friends had their own separate lives and careers in the beginning as models and actresses. Through their work, they began to receive tons of advice and they thought they just had to share it but they also wanted to pay tribute to influential women. Using social media, the girls began a series of videos portraying influential black women. Those videos caught the eye of producers at the nationally syndicated show "The Real" and the girls found themselves on national TV sharing their message on a much larger platform.