Leela James Brings Love and Soul to Houston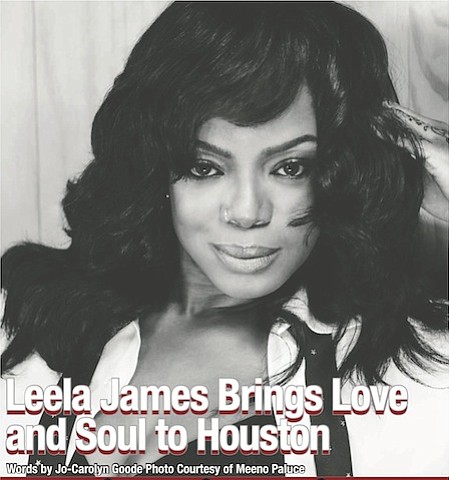 Having soul is to be in touch with one's self with a clear understanding of your value. A more perfect definition of the R&B crooner, Leela James, could have been better crafted. Since first appearing on the scene 10 years ago, the 33-year-old singer, mother of two, has been drawing audiences in with her smooth sound and raw honesty in her songs to allow her to connect with fans on a personal level. She keeps it real.
Being true to myself translates over to the people because that's the only way I know how to be," said James in our interview before the start of her 18-city tour with fellow R&B chart-topper, Tank.
With every performance, James gives a piece of herself to the audience. Being so honest and open with her writings allows her to connect with her fans' at their core. She ventures back to a familiar subject with her sixth studio album, Did It For Love. She focuses on everything one does for love. Her most mature album yet, James says that her music has evolved over the years and she is now at a level where she is more confident in her skill set making her a better artist.
She merges her talent with another artist at the top of his game so much so that he considered a savage. On the Savage and Soul Tour, James says it is a representation of their music, brands, and styles. The tour kicked off in New York in November of this year and made a stop in Houston, her new hometown, over the weekend. Fans' ears were treated to performances of her #1 single 'Don't Want You Back,' 'Hard for Me,' and 'All Over Again' from her latest album.
Since moving to Houston James has really become one with the city. She welcomed a new baby and survived Hurricane Harvey. Not wasting any time to help in recovery efforts, James held a benefit concert with several artists to help raise funds to aid her fellow citizens. Over$15K was raised to help several affected families. She felt blessed to help the city that has embraced her with open arms. After her tour stop in the bayou city, James tweeted, "Houston you were magical and we thank you so much for the love."
Some may not know that music is not James' only passion. She has a love for interior design. She has been approached to pursue it further but don't worry as James is sticking to music.
Once she wraps up the tour this month, there is no time for rest for James as she will be back in the studio working on new music for an upcoming album. Although I tried to pry it out of her, no possible release dates have been set for the new project. But do know that it will be classic James as she keeps her sound consistent while always remaining honest and never losing sight of who she is.