Holiday Cheer: Houston Rockets Forward Luc Mbah A Moute Gives Back to the Community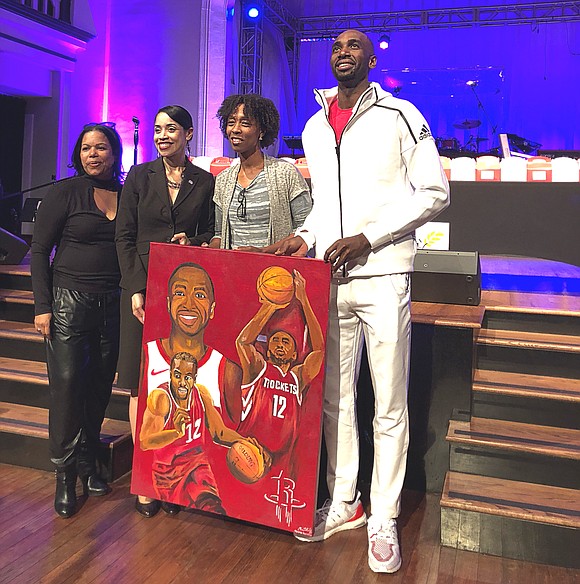 Houston Rockets Power Forward Luc Mbah A Moute, and his M12 Foundation teamed up with Houston Councilwoman Amanda Edwards and the Bread of Life organization to help bring smiles to the faces of families affected by Hurricane Harvey. The event took place at St. John's Church downtown and once Mbah A Moute walked through the door and gazed at the number of individuals in attendance, his face lit up with excitement.
"I have lived in the United States away from my family for a very long time, and around the holidays I try to rally around my teammates and the community to give back to those in need," said the Rockets Forward.
Mbah A Moute, who was acquired by Houston this year via free agency, was returning from his home country of Cameroon when Hurricane Harvey devastated the city. While being rerouted due to airport closures, Mbah A Moute felt in his heart that he must do something to help those suffering from the natural catastrophe. "It touched me to see how many people were affected by the hurricane." Days later when he finally arrived in the city, he hit the ground running, teaming up with Councilwoman Edwards going door to door to check on elderly individuals. "I got a random call telling me that Luc was coming with me to check on my senior constituents and ever since that day he has been in the trenches doing what he can to help in the healing and recovering process," said Edwards.
For as much as he smiled while greeting each and every person who attended the event, Mbah A Moute had that same fervor when asked about the Rockets who have won 16 of their last 17 games and are currently on a ten-game winning streak. Not to be forgotten, they own the best record in the NBA at 21-4. They have experienced some rough times during this current streak. In multiple games this season, they have been down by large deficits and found a way to come back and win.
"We are taking it one game at a time. We are having a great start to the season and continually getting better as time goes on. Our fans help fuel our drive and determination as a team. "Houston Strong" means so much to this city and we just try to do our part by continuing to play good basketball," said the former UCLA Bruin.
Katherine Flowers, who is the Executive Director of Bread of Life Organization, was happy that Mbah A Moute brought smiles to the faces of individuals who would not have had the opportunity to enjoy this holiday season. "Every family in attendance received gifts which means so much to the organization. We wanted to make sure that we did our part by making a difference in the lives of others," said Edwards.