Ride Into 2018 with the New Toyota Camry SE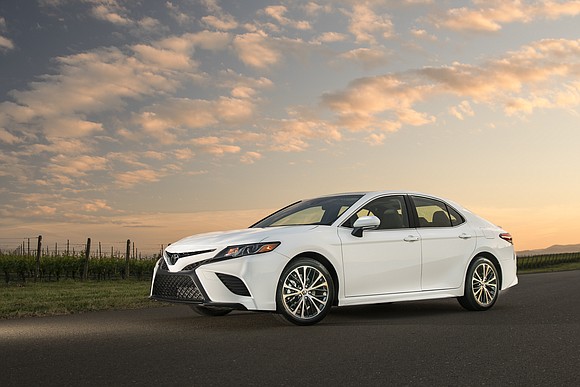 Millions took to the road this holiday season. In fact, this year was the highest travel on record with an estimated 107.3 million traveling via four-wheels according to AAA. As America's most popular sedan, the Toyota Camry is one of choice for families, especially on long road trips. They love it for its reliability, safety, and comfort. In 2018, drivers will love it for one more thing, its style.
When the Toyota Camry made a debut in the US in 1982 the vehicle's frame was very boxy. Over time the frame evolved to get some curves and expand the frame. Although for the most part, the brand has played it safe with the vehicle's frame making only slight changes to its classic look for the family-like appeal. Why mess with something that works right? But that was then. Toyota turned over a new leaf for 2018 taking the Camry from classic and traditional to unconventional and state-of-the-art.
I almost asked if they had the wrong car when the 2018 Toyota Camry SE was dropped off at my house. The Camry has taken on an entirely different style that unlike any of its predecessors. Curves are sharper, lines are edgier, and the body pushes the envelope. Loyal Toyota Camry owners will wonder where did the Camry go while rejoicing over the changes made. No longer can anyone describe the Toyota Camry exterior as being bland. I invite them to view the new Toyota Camry, as it is a far cry from resembling anything plain. Before the Toyota Camry just asked for respect; now it demands it.
This new frame and style is part of Toyota's new Global Architecture or TNGA that makes the vehicle more dynamic, athletic and fun drive to drive. With this new model, the Camry will attract more than just families but single professionals looking for an upgrade from their college rides as they enter the workforce. It is professional when you need to impress and exhilarating when you want a thrill.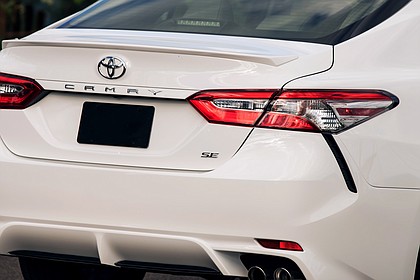 The word of the day for Toyota is low. The new body has a lower hood and roofline designed for more than style but for better aerodynamics and drive. Seating height has also been lowered and the front seats have been sculpted to hug the body more. Don't think with these lower dimensions that occupants will now be crammed into the cabin. Toyota Camry is not lacking space in any capacity. More lowering was done to the dashboard to give off a more open design concept.
Toyota offers the Camry in three different powertrains: 2.5-liter 4-cylinder (203 horsepower), a 3.5-litre V6 (301 horsepower) and a 4-cylinder hybrid. All of them have been modified for fuel efficiency with the hybrid, of course, giving the best of saving gas and moving fast. Handing and control are excellent on the Camry so drivers can really go places with a more than decent acceleration.
One area that Toyota will always remain as the shining star is with its safety. Every time you think Toyota has done all it can to make it the safest vehicle on the road it ups the ante. The features you have come to know Toyota for are still standard like the ten airbags, rearview camera, whiplash injury lessening seats, stability control, traction control, anti-lock brakes, electronic brake force distribution, brake assist, and smart stop technology. Yes, all that is standard. But Toyota went one step further to now make their Toyota Safety Sense-P (TSSP) standard on all models. Under the protection of TSSP, the base model on up comes equip with traffic-adapting cruise control, lane departure alert with steering assist, automatic high beams, and emergency braking in to avoid collisions and hitting pedestrians.