Lakewood Church Joins Houston's Football Festivities with Super Bowl Gospel Celebration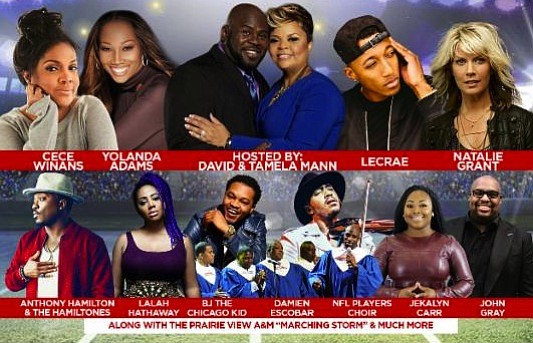 Lakewood Church joined in on the excitement of Super Bowl LI by hosting the 18th NFL sanctioned Super Bowl Gospel Celebration on February 3rd with a live tapping for BET. Familiar faces David and Tamela Mann, who have been featured in various Tyler Perry productions, hosted the concert alongside Lakewood's Pastor John Gray.
The night got started with a bang with the Prairie View A&M University's Marching Storm flooding the venue aisles with a sonic boom before Houston rapper Lecrae performed his single "All I Need Is You," adding to the upbeat mood. Anthony Hamilton and the Hamiltons followed with a performance of "Still." BJ the Chicago kid added to Hamilton's performance with his single, "Jeremiah/World Needs More Love."
Not to be excluded from the lineup was Houston's own gospel superstar Yolanda Adams who was introduced to the stage by Houston Mayor Sylvester Turner. With the tone for the night already set, other performers Grammy award winning gospel legend Cece Winans, Natalie Grant, Damien Escobar, Lalah Hathaway and Jekalyn Carr contributed to the spiritual atmosphere. Tamela Mann's powerful performance of "God Provides" raised the level of energy to another level as members of the audience shouted praises.
Gospel and comedy was a perfect pair as Pastor Gray blended his humor with funnyman David Mann a.k.a. "Mr. Brown" creating the ideal comedic duo. When the audience wasn't laughing they were in tears moved by the words of Troy Vincent's wife Tommi professing her love for her husband as she introduced him. The NFL executive Vice President and former NFL player received the 2017 Lifetime of Inspiration award for his dedication to his faith and contributions to the NFL. "Every saint has a past and every sinner has a future," said Vincent during his acceptance speech.
Before the night's end, the NFL Players Choir closed the event performing a few well known gospel tunes, including Kirk Franklin's "We lift our Hands." The event couldn't come to a close without words from Congresswoman Sheila Jackson Lee. "Gospel music can bring people together," Lee said. Long time charity partners of the event Emmitt Smith and his wife Pat Smith made an appearance.
All proceeds from the concert will benefit the NFL Players Care Foundation.
The concert will air on BET.