Rep. White Wants Texas Fathers' Role Valued in Texas Law
Burt Levine | 2/17/2017, 9:38 a.m.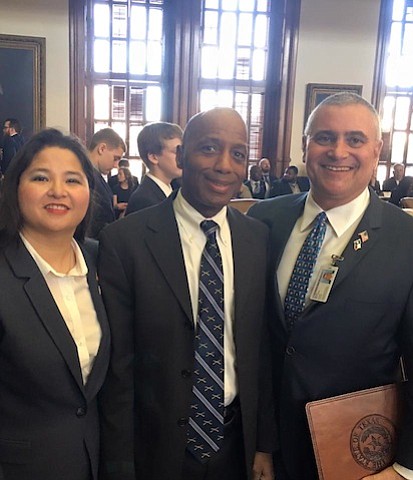 Rep. James White, Houston native and former teacher at Third Ward's Cullen Middle School, was elected to his fourth term last fall as the only African American to represent Texas' Piney Woods in the Texas Legislature. Today he's fighting for Texas families with his House Bill 453.
"I'm motivated as I was last session and am every session to strengthen families and fathers' roles in their children's lives. HB 453 will make it Texas law to give children equal time with both fathers and mothers after a family separation," said White, a family man, businessman and east Texas rancher that and graduated from Houston ISD schools. White earned bachelors and masters degrees from Prairie View A&M in political and military science, his commission as an infantry officer in the US Army and served in combat arms overseas. He served in the Berlin Brigade during during the fall of eastern European Communism. White taught and coached at Houston and Fort Bend ISD and in college before completing his University of Houston doctorate.
"This pro-Texas family legislation follows legislative efforts in other states. For years, custody arrangements favored children growing up primarily in their mother's care but a growing body of research shows children grow up healthier mentally and physically when they spend more time with their fathers. I now chair the Texas House Committee on Corrections and know for us to have less adults in Texas Corrections we need to have more children being with the their fathers and their mothers as much is possible," he said.
White beat incumbent Democrat Jim McReynolds with 57.6 percent or 20,958 votes to 42.4 percent or 15,405 votes in 2010 and then after redistricting "paired" him with incumbent Mike "Tuffy" Hamilton he beat Hamilton in 2012. White beat Hamilton with 54.5 percent or 10,190 votes to Hamilton's 45.5 percent or 8,503 votes.
White has voted to ban abortion after 20 weeks of gestation; the measure was approved 96-49. He co-sponsored companion legislation to increase medical and licensing requirements of abortion providers. Texas Right to Life has rated him 78 percent pro-Life. Being "Pro-Parent," he voted against the bill to require immunization of minors without parental consent, and being a "Pro-Business" legislator he co-sponsored a law to extend franchise tax exemptions to certain businesses. White opposed the measure to prohibit texting while driving and voted to require testing for narcotics of those receiving unemployment compensation. He has voted against the state from enforcing federal regulations of firearms and in support of the college and university officials in Texas' right to carry concealed weapons in the name of campus security.
Young Conservatives of Texas has ranked him 80 percent, Texans for Fiscal Responsibility has scored White with a 100 percent ranking and Texas Association of Business gave him a score of 87 percent. He's hit a bullseye 92 percent from the National Rifle Association.
According to a recent analysis by the Pew Charitable Trusts, there have not been any significant reforms to state laws on custody arrangements for more than 40 years. In 1970, the Uniform Marriage and Divorce Act established five criteria to determine the "best interests" of the child. Groups like the National Parents Organization have rallied repeatedly for reforms that respect a child's right to be nurtured by both parents.
White wants Texas fathers and mothers to rally for this bill. A group will rally in support of HB 453 is scheduled for Tuesday, March 13 on the south steps of the state Capitol in Austin.
Keep in the know on Texas politics and Texas election issues with Burt Levine. Share this story online at www.stylemagazine.com.