Ryan Destiny: The Rise of a Star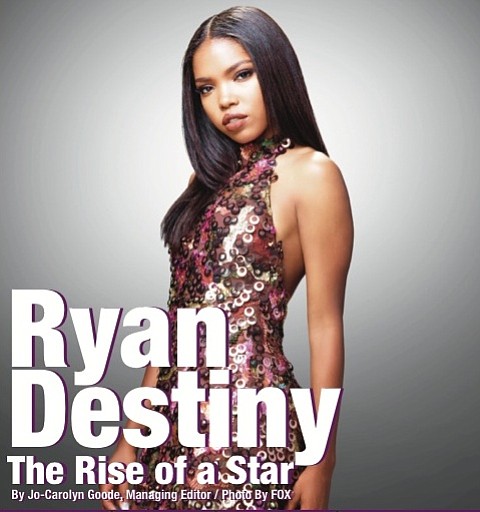 Lee Daniels has struck television gold again with his newest series airing on Fox, Star. Just knowing that it was a Lee Daniels' project was enough to generate excitement of its release. Adding the star power of Queen Latifah and Benjamin Bratt made it one of most anticipated shows of the season. As teasers came out, Daniels' fans were quick to compare it to another hit Empire. One look at the first episode of Star and one quickly understood that music and family were the only things the two shows had in common.
"It's (Star) not like Empire where they already started out making it and then they kind of rewind some parts about their past and everything," said co-star Ryan Destiny, who plays Alexandra Crane on Star. "You see like the beginning of this story so it's cool." Destiny added, "This show is about three girls and a whole bunch of other things, of course, but three girls trying to make it through the industry and trying to make it period. And it's about family. And it's a more, I think, raw twist on it. You really see the girls start from the bottom and just their whole families and their different stories throughout the whole thing."
Set in Atlanta, GA, Star follows the lives of three girls – Star Davis (Jude Demorest), Simone Davis (Brittany O'Grady) and Alexandra Crane (Ryan Destiny) - on their journey to stardom. I like the fact that these girls' journey is sort of old school as they use their connections and hustle to make it big and not technology. I believe the only technology they have use was Instagram to meet each other. After gelling, they dish out some killer performances using a strong set of pipes and moves to match. The show's soundtrack is almost a character by itself. Headlines are also being made by one of the show's costars, Amiyah Scott. Her television debut makes her the second openly trans person to play a major character in a scripted television drama series.
Destiny's character aka Alex is one that has lived a privileged life because of her famous rock legend father Roland Crane (played by Lenny Kravitz). It has not been a smooth life as she also had to deal with the trouble her alcoholic mother, Rose Spencer-Crane (played by Naomi Campbell), brings to any situation. Alex is trying to leave the protected shelter of her parents to stand on her own feet and chase her dreams.
Having a famous father is probably the other thing Destiny has in common with her character. Destiny, whose legal last name is Irons, is the daughter Deron Irons of the former 90s R&B group Guesss. "We really do have different lives," said Destiny in our one-on-one interview. Since Destiny's own life is so different from that of her character's life she uses a lot of her imagination to portray the role. A process that she thinks is fun. "I try to give her a little bit of me at times and I think that comes out as she unfolds throughout the story as she becomes more human and you see her walls fall," explained Destiny.