Black Culture In The Age Of Weariness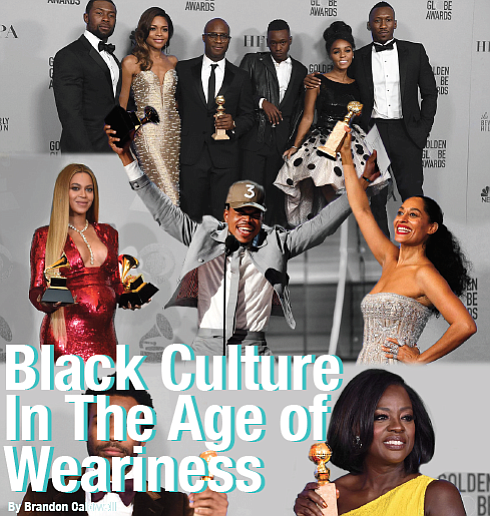 No matter where you turn, the state and local governments are making headlines, both for the good and for the bad. Regardless of what's going on in Washington with our current President of the United States, the news has made a considerable trickle down to Texans and most importantly, Houstonians.
ICE raids of undocumented immigrants; Governor Greg Abbott's threat to the National Football League over a proposed transgender bathroom bill similar to the one in North Carolina; Houston police chief Art Acevedo & district attorney Kim Ogg announcing new drug policies for citizens, the news is a big warp of good and bad. It's more than likely why the general public feeds off of escapes and February offered plenty of them. Black History Month occurs every day, every minute and while we are in a constant state of championing our brightest, we're consistently on edge waiting for the other shoe to drop.
Next week, the city's full attention will dive into RodeoHouston and for the third time in as many months, NRG Stadium will be a ground zero of carnival attractions, thousands of people, food and activity. It's a warranted and deserved distraction, an opportunity for Houstonians to champion their own and regal with pride about their individuality and uniqueness. How customs from a bygone era can still exist and permeate through our culture. The Academy Awards are Sunday and with more diversity locked into the nominees than ever before, it's another night where Black Americans will weave stories of strife and being shut out into entertainment.
We felt this sense of anxiousness earlier this month with Super Bowl LI. Then, a team from New England whose main faces in regards to quarterback, head coach and ownership had willfully toed a controversial line by supporting this particular President. Black America naturally sided with their opponents, the Atlanta Falcons. A team from a predominately Black major metropolitan city. The synergy was too good to be true. Sports fans drew up a similar narrative a year ago when Carolina Panthers quarterback Cam Newton had displayed all the flair and poise to not only be the NFL's Most Valuable Player but our Most Valuable Player.
True to tale, Newton lost his Super Bowl against the Denver Broncos. The Falcons, up 28-3 with less than 17 minutes to go in Super Bowl LI managed to blow a 25-point lead and ultimately fall to the Patriots in overtime. We felt a similar story occur two Sundays ago with the Grammy Awards. Everyone who had bought Beyoncé's "Lemonade" album, consumed it, talked about it, wrote about it and even taught classes on it had believed it was to be the Album of the Year. There was no way around it. Yet the award went to Adele, further proving to the world that being Black and at your very best will never feel the same as being at your very best. You have to be a supernova on top of another supernova to even feel a decent.