AKAs Takeover the Movies to Support Hidden Figures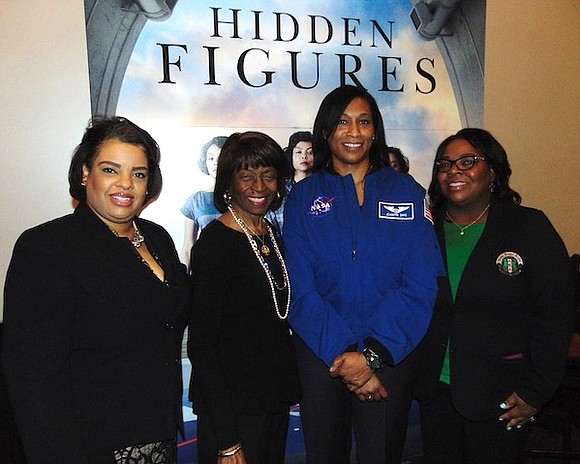 It was wall-to-wall pink and green on Sunday, January 8, 2016, at the First Colony 24 theaters as the women of Alpha Kappa Alpha Sorority, Inc. took over the theater. The ladies were in mass numbers to support the film Hidden Figures that tells the story of three extraordinary women – Katherine G. Johnson, Dorothy Vaughan, and Mary Jackson - who made NASA history by helping with the launch of astronaut John Glenn into orbit. All three women are members of Alpha Kappa Alpha Sorority, Inc.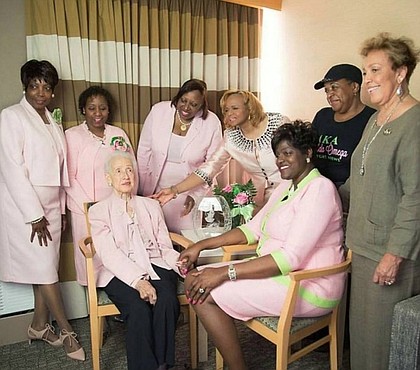 This push to support the historic film is not just a local movement but also a national one that has been in the works since the beginning of 2016. Alpha Kappa Alpha first honored Katherine G. Johnson, portrayed by Taraji P. Henson, at the sorority's Mid-Atlantic Regional Conference. Following that recognition, AKA honored Johnson with the Septima Poinsette Award at their national convention's public luncheon held in Atlanta, GA. In addition, members of the sorority in attendance at the national convention were privy to a sneak peek of the film by one of the film's stars, Janelle Monae, who portrays Mary Jackson in the film. Serving as the keynote speaker at the sorority's national convention undergraduate luncheon, Monae inspired the sorority's next generation of history makers.
Special screenings of Hidden Figures have been held across the country especial for members of AKA to include their families and students part of their ASCEND program. ASCEND is the national signature initiative under the national program Launching New Dimensions of Service led by Alpha Kappa Alpha Sorority, Inc.'s International President Dorothy Buckhanan Wilson. ASCEND focuses on the educational enrichment of youth to achieve collegiate success or vocational employment.
During the Houston screening for Houston Metropolitan Area Chapters of AKA, an interactive panel discussion was held with NASA astronaut Dr. Jeanette Epps, former Texas Southern University professor and 20th South Central Regional Director of AKA Dr. Polly Sparks Turner, NASA Aerospace Engineer Macrersia Alibaruho, and Houston Chronicle Reporter Cindy George, who served as moderator.