Houstonian Ann Odogwu Could Be the Worst Cook in America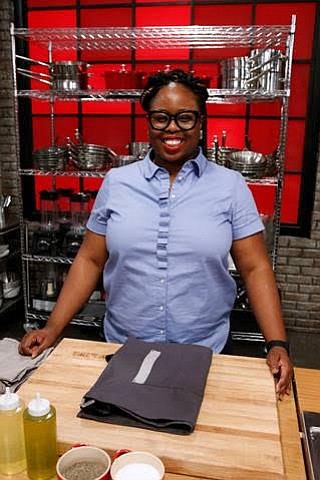 If you prepare every meal with scissors, cannot boil water, and consistently undercook pasta, because you don't know when it's done; in my view, you are the worst cook ever. After growing tired of the afore mentioned kitchen disasters, Ann Odogwu decided to expand her culinary skills by filling out an application for Season 10 of The Food Network's ® Worst Cooks in America.
On January 1st, Ann along with 15 other recruits from across the United States were given the chance to improve their cooking and learn to create edible dishes by working with Food Network Chef mentors Ann Burrell and Rachel Ray. The participants are divided into two teams, each week a contestant will get eliminated until only two remain. The Finale airs Sunday, March 5, 2017, each finalist cooks one last meal and the winner takes home the grand prize of $25,000.00.
According to a press statement "Ann Odogwu is a native of Nigeria, where cooking is a big part of the culture, so she's ready to improve her culinary skills. Ann is the only one in her family that can't cook an edible meal and she knows she needs to develop her independence in the kitchen. She also wants to make her family proud, especially her dad, in the process."
In our interview, Ann was asked what she thought hinders her from being able to cook as well as the rest of her family, she replied that "she uses scissors for everything because she's afraid of knives, and that either her food turns out over –seasoned or under –seasoned." Additionally, she really loves Italian food and just can't get the hang of cooking noodles.
If you have seen the first episode, it's hard to watch, Ann and her cohorts gives the show's viewers a ring side seat to their culinary "nightmares". We are so lucky that Chef Burrell and Ray are the ones who have to taste these dishes. Odogwu indicated that she is having fun on the show and so far this experience has been pivotal for her. She is learning so much from her mentor, who is "an amazing human being."
"Rachel Ray is like a mother who cares for everyone during production; she looks out for us every step of the way and is very encouraging."
Worst Cooks in America plays every Sunday night at 9pm E.T. and 8 pm Central on the Food Network. Let's tune in and see if Ann Odogwu evolves from a "kitchen disaster to a kitchen master". You can also watch full episodes online at: www.foodnetwork.com/worstcooks.
Thanks for reading, please continue to follow Team Style Magazine on Facebook, Instagram and Twitter.