Simply the Best: Jeff Bagwell Finally In the Hall of Fame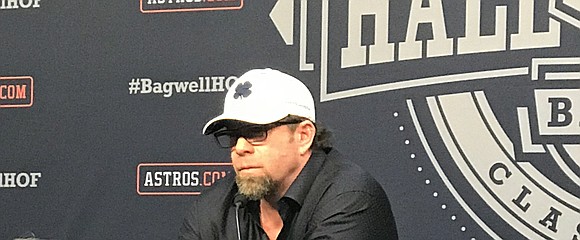 As we patiently awaited the arrival of one of Houston's iconic sports legends. You could hear all of the positive compliments being thrown around the room. Things like hard worker, dedicated, clubhouse leader, etc. I even overheard one story of where a first base umpire got a call wrong and he said, "That's ok. We all make mistakes." On January 18, 2017, Jeff Bagwell, Former Houston Astros first baseman, was voted into the Baseball Hall of Fame. He is the second player from the franchise (Craig Biggio was inducted in 2015) to receive such honor.
The organization decided to host a public pep rally for him and in usual Bagwell fashion, he thought it was entirely too much. "I am just an east coast kid who worked hard and gave my all every time I took the field," Jeff said in a low but forceful tone. With his family front and center, along with the aforementioned Biggio and other former teammates in the crowd, Bagwell seemed at ease when he was speaking of them and not of himself. "What most people don't understand is that you spend more time with your teammates than you do with your own family. I think 7 (Biggio) knows me better than I know myself." Jeff reiterated to the media.
A career .297 hitter with 449 homers and 1,529 runs batted in, Bagwell still harps on the missed opportunities in the playoffs. His spirit seemed to drop when he spoke on his playoff failure (.226 BA with 25 strikeouts). "I have had some bad games in the playoffs and a lot of people (media) sitting in front of me have let me know it," said the franchise all-time leader in home runs, RBI, batting average, and walks. I had an opportunity to speak with former Astros play-by- play broadcaster Bill Brown and he pointed out an important factor that most fans miss when they talk about Bagwell. "You have to remember that Jeff played in a pitcher friendly park (The Astrodome) for a large part of his career. If he would have started in this place (Minute Maid Park) we would be looking at a guy who would have finished with well over 500 homeruns." He also stated that there wasn't a nicer guy he covered throughout his 30 years with the Astros.
"I remember climbing on the roof of a one story house to fix the antenna to watch the Red Sox on channel 6. My dad was a very big fan of the Boston team and you better not think about mentioning that team from New York (Yankees)," Bagwell said. It was very evident that his father made a huge impact on his life and Jeff applies that same model to raise his kids. He constantly reminded us of how important his family was to him. I had the honor of asking him the last question of the session. "What would you tell a kid who wants to be like you?" The Hall of Famer looked me directly in the eyes and said, "Don't ever quit on anything you do. Whatever you start, you finish." And just like that, he walked away gracefully and humbly in typical Bagwell fashion knowing that he was simply the best to ever play the game.