AboutThatCar.com: 2018 Genesis G80 Sport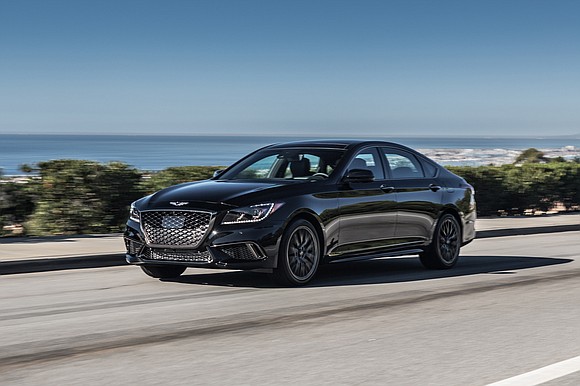 NAPA VALLEY, Calif., -- When it comes to Genesis, the glass is either half full or half empty. Luxury brands are defined by their sedans and no doubt that's why Genesis has launched two and we're here to test drive the third: the 2018 Genesis G80 Sport.
However, this is sport utility market, with crossovers and all sorts of utility vehicles now accounting for more than half of new-car sales. Automakers are loathed to comment about future products unless they are on the launching pad.
But the Korean automaker debuted a concept vehicle, the GV80 full size sport utility, at the New York Auto Show that was slick and well received. The head of Genesis design told us that the upcoming Genesis sport utility will not stray far from the concept in terms of styling. Until then, Genesis is introducing top notch luxury sedans and the 2018 G80 Sport is the latest.
Under the hood was a 3.3-liter direct injected dual turbocharged V6 that made 365 horsepower and 376 pound-feet of torque from 1,300 rpm to 4,500 rpm with premium fuel. It was mated to a second generation eight-speed shift by wire automatic transmission with manual gear selection available through paddle shifters.
Engineers used twin scroll turbochargers and an air-cooled intercooler as they increased low-end torque and reduced turbo lag. An integral turbo and exhaust manifold helped to reduce weight and improve exhaust performance. An electronic waste gate and thermostat were employed to improve vehicle responsiveness. Also used were sodium filled valves to boost performance.
We thought the mechanics of the car worked well on the road. The G80 Sport accelerated with authority. The engine growled as it came to life under hard acceleration. And the car had to be slowed down lest it gain too much speed on roads that were occupied with traffic.
Still, there was a bit of turbo lag but it wasn't bad. The sheet metal around that engine was taut, the face was strong, there were minimal overhangs front and rear and that gave the car a distinctive look.
The G80 Sport had a dark chrome vertical hexagonal grille with a cross-hatch design. Full LED headlights were right next to the grille which was housed within a copper-colored encasement. Copper colored accents were used throughout the vehicle. The front fascia had a lower honeycombed front air dam and functional side intakes.
The car was shod with 19-inch dark alloy wheels that had a copper-colored bezel on the "Genesis" wheel center cap. There was a lower rocker panel with a dark satin trim for the lower section. There were black-capped side view mirrors with smoked colored turn signal housings. The taillights were smoke colored too; they had a deep red hue and there was a sport designed rear fascia. The whole car was rounded off with a chrome tipped quad exhaust and a black diffuser.
Inside, there were heated and cooled front sport seats that had torso and thigh bolstering. Those bolsters kept us planted in the center of the seat as the car powered through curves on Canyon Road and got around switchbacks on the Pacific Coast Highway.