Majic 102.1 Kicked Off Summer with the First Summer Block Party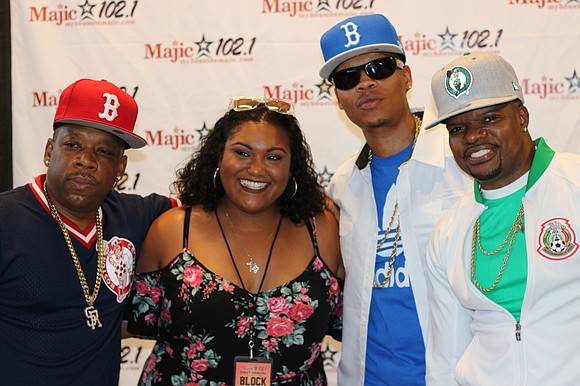 Majic 102.1 hosted their first Summer Block Party at the Cynthia Woods Mitchell Pavilion and it was a night full of food, music, and excitement. The star studded lineup included Ro James, SWV, Brandy, DJ Kid Kapri, Jill Scott and BBD.
Ro James kicked off the show with a performance that drew in the audience and really set the tone for the entire night. He performed his smash hit 'Permission.'
The party was kept going with SWV who came out and made the crowd feel very nostalgic by performing some of their biggest hits. Fans could be singing such tunes as 'Weak' and 'Right Here' at the top of their lungs. The trio definitely proved they still had it and looked fierce as ever dressed in matching jumpsuits while doing it.
"I love SWV! I am so glad they are still performing. They look and sound amazing and this performance really took me back in time," said Olivia Farley, a concertgoer and SWV fan.
As if we weren't feeling nostalgic enough, Brandy came out and proved to us Black really doesn't crack! Dressed in a red flowy dress with her braids pulled in a high side ponytail, She showed her youthful side, wonderful ball of energy, and dedication as she put on an amazing show for fans. Brandy had the crowd on their feet the entire time. When she started 'I Wanna Be Down' the crowd went crazy!
"Who doesn't love Moesha? It was so great to see how great of a live performer she was," said Tayler Harris, another concertgoer and Brandy fan.
The Summer Block Party was the party that never was at lost for energy. DJ Kid Kapri made sure of that with mixes that made it feel like you were at your family reunion. It was evident the crowd was feeling it as they moved to the beats.
With excitement already at a ten, it was hard to believe it could get any higher. However, when BBD hit the stage, it did. BBD came and stole the show! Ricky Bell, Michael Bivins, and Ronnie DeVoe had everyone feeling like we were back in the 90s from their insane level of energy and not having aged one bit, it was truly an unforgettable performance. The trio performed crowd favorites such as 'Poison' and 'Something in Your Eyes,' and even songs from their New Edition days such as 'Candy Girl' and 'Mr. Telephone Man,' as well as songs from their new album Three Stripes. Even though it has been 20 years since BBD first stepped on the scene, everything was still intact from the vocals to the choreography and the fans were really impressed.
Adding to the party atmosphere was a little love and romance. During BBD's 'Smile Again,' Majic 102.1's Johnathan Cook proposed to his girlfriend Sasha and everyone including Sasha's heart melted. How many people can say they got engaged during a BBD concert? It was truly magical.
The love fest continued with Jilly from Philly aka Jill Scott who serenaded us all with her angelic voice and her warm embrace as she performed. By the sound of the crowd it was clear that Jill is still a fan favorite. She kept the crowd engaged with some of her hits as 'Golden,' 'Hate On Me,' and 'Getting In The Way' and proved that live music is still a beautiful thing. With this performance you were really able to see her personality and she let us in her world. She showed her humor and even that she is a regular person by taking her shoes off mid performance to get more comfortable to give the best performance possible.
Jill closed her show out with 'My Petition,' a song that she says she wrote as a letter to the government to try and make her voice heard. "I wrote this song in a form of a love song with the hopes that love will prevail," said Jill. While singing the song a slideshow played in the background of pictures of the many victims of police brutality that we have all come to know as Eric Garner, Philando Castille, and others.
Overall, I give the first Summer Block Party 5 stars. It was a great way to kick off summer and end African American Music Appreciation Month. It was a much needed event in the Black community to bring us together with music, culture, and food. That combination is always a great outlet.
Keep up with future Majic 102.1 events by following them on social media @Majic1021, and on their website at www.myhoustonmajic.com.