2017 Houston Astros: Look to Duplicate Its First Half Success
The 2017 Houston Astros have been red-hot during the first half of this season. With a combined record of 60-29 and a commanding ten game lead over the nearest opponent in the American League (Boston Red Sox), they have a laser focus on the big prize, The World Series. And why not? Anyone who has watched the Astros this year has witnessed the equivalent to baseball dominance. They are the fourth team in America League history to reach 60 wins before the All-Star break. Only three other teams have accomplish this - the 1969 Baltimore Orioles, 2001 Seattle Mariners, and the 1998 New York Yankees.
What makes the Astros such a fierce team is their offense. If you have read any of my past articles, you know I frequently comment on how they are never completely out of any game. They have held a lead in 77 out of the 89 regular season games played thus far. Houston's offense leads the Major Leagues in runs (527), hits (898), doubles (197), homers (148), batting average (.289), on-base percentage (.355), slugging percentage (.500), and OPS (.855). For those of you counting at home that is eight categories they dominate. And once again that is only in the first half of the season. Playing a huge part in those numbers are 2017 AL All-Stars OF George Springer, 2B Jose Altuve, and SS Carlos Correa.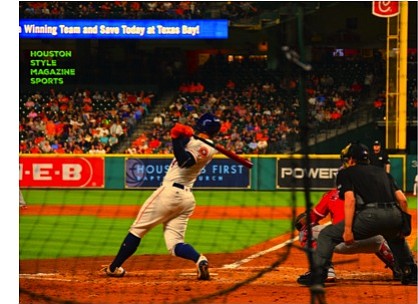 George Springer ahead of all leadoff hitters with 27 home runs and is only second in the MLB in that category to Yankees sensation Aaron Judge (30). Those "Springer Dingers" also set a record for the most homers prior to the All-Star break. A record previously held by Orioles Brady Anderson according to Elias Sports Bureau. Jose Altuve is in rare season form as he leads the Major Leagues in batting average (.347) and the AL in hits (116). He has recorded 200 hits in three consecutive seasons to go along with two batting titles (2014, 2016). What's more impressive is that the Astros leader is tearing the cover off the baseball on the road as well by batting (.414), which by the way; yep you guessed it, leads the Majors. Not to be out done in this hitting barrage is Carlos Correa. The phenomenal SS has reached base safely in 25 games and ranks number one in the AL at his position in runs, home runs, RBI's, and walks.
Houston looks to improve in the area of pitching in the second half of the season, although they have set a Major League record by recording (902) strikeouts before the All-Star break. Some late inning hiccups has caused them to drop a couple of games, but that's to be expected when you have such a talented team like the Astros. Three of their pitchers (Dallas Keuchel, Lance McCullers Jr, and Chris Devenski) were selected to the AL All-Star team. That is a grand total of six All-Stars selected in 2017.
Astros fans buckle up! Because if the second half of the season resembles any parts of the first we are in for the ride of our sports lives that hopefully won't end until a chilly night in October.