Discover the Power of Speed with the Lexus RC 350 F Sport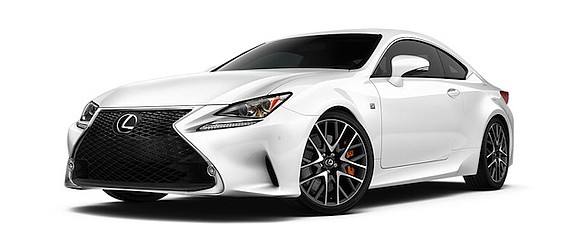 Having power at the tip of your fingertips gives off an adrenaline rush that excites the heart, curls the toes, and makes hair stand on its end. After a week in the 2017 Lexus RC 350 F Sport, I felt this type of power. And you can too for a starting price of $47,115.
From the name of the vehicle, it is easy to guess that it has a need for speed. With a 3.5-liter V6 engine under its hood, the RC 350 F Sport goes from 0 to 60 in 5.8 seconds (RWD) and 6.0 seconds (AWD). It produces a horsepower of 350, which can be increased with the dual Variable Valve Timing with intelligence. Further momentum can be gained when driving in the sports mode. Two other driving modes, eco for better fuel efficiency and normal for optimal balance of fuel efficiency and performance, are available. Driving is made more fun and interesting with paddle shifters on the steering wheel for quick shift changes.
With speed like this, safety is of the up most concern. The RC 350 F Sport is loaded with features to keep all passengers safe and sound. Standing out the most are the LED headlamps and daytime running lights. Having catlike styling, they are designed to target and make clearer what is in front of the driver as well as make the vehicle more visible to others. RC 350 F Sport thinks for the driver with safety features that act as prevention for accidents. The pre-collision system brakes automatically if it thinks the vehicle will hit another vehicle in front of it. Features that are always popular to me are the backup camera and the blind spot monitoring. Slowly becoming another one of my favs is the intuitive parking assist that helps to make me parallel park like a pro. Not that Houstonians will ever need this, but there is even a feature to prevent skids on an icy road.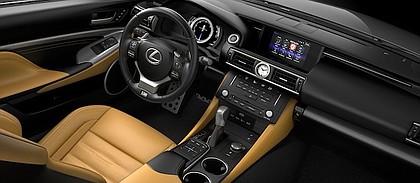 RC 350 F Sport has speed, safety and style, boy, does it have style. Resting its frame on 18" aluminum wheels all-season tires, the vehicle has striking lines and sharp curves that cause not just a double-take, but a triple-take. During my test drive week, I constantly caught people staring at the car or stopping me to say things like, "Nice wheels." I just smiled and said, "I know, right." Bold branding of the Lexus logo is center focus on the distinguished grille combined with chrome accents that ties the entire look of the sports coupe together. My review vehicle was in the color ultimate white but I suggest the silver metallic.
Don't think for a second that because the RC 350 F Sport is a racecar that it is not luxurious. Lexus and luxury just go together automatically. Starting with the Lexus Enform App Suite, housing every apps to make life easier to do everything from making restaurant reservations to streaming live radio. One can even download the app on a smartphone to start the vehicle's engine. The driver's instrumental panel is impressive with a digital tachometer, G-Force and turbo –boost displays that are bold and highly visible. Houstonians will get a lot of use out of the ventilated seats but not so much from the heated seats and steering wheel. Another fun feature is the remote touchpad that controls the color multi-informational display. Always entertaining is the Mark Levinson premium surround sound audio system with 17 speakers included in the F Sports Package.
These are just some of the things that help power the 2017 Lexus RC 350 F Sport. It is up to you to discover the rest when checking it out at your local Lexus dealership or online at www.lexus.com.