Vocal Icon Nina Simone's Soulful Journey Comes to Life On Stage at the Ensemble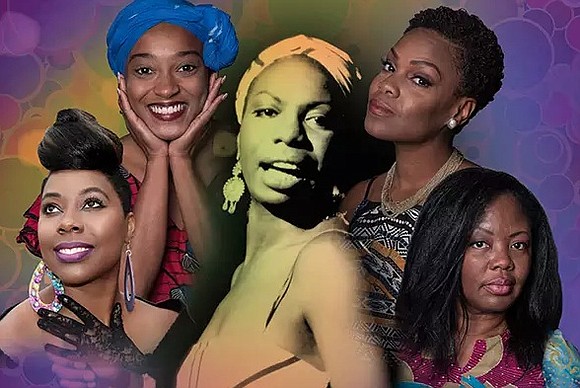 As one of the best artist of the 20th century, vocal icon Nina Simone set the tone for singers who came after her and worked hard for her platform. With a career expanding from jazz to blues and Broadway, Nina gave us hits that we still hold close today.
The Ensemble Theatre is bringing the life and legacy of Nina to the stage in a production called Simply Simone. Her soulful journey is narrated in a way that will cater to the entire family.
It was no secret that Nina Simone was unapologetically herself but the theatre wanted to make sure her life and legacy was shared in the best way possible. Written by Robert Neblett and David Grape with musical arrangements by Vince Dimura, director and choreographer Patdro Harris and musical director Chika Kaba Ma'Atunde, it took a village to capture such an amazing story.
The play follows four different versions of Nina Simone to represent different stages in her life as it is told through the music and monologues. Each stage reveals something different that was vital to the person Simone would become. Samantha West portrays Nina as a child, Lakeisha Randle portrays jazz singer era Nina, Teacake Ferguson is Nina during her days of activism, and Rita Hughes depicts Nina in her later years. The intimacy of the theatre coupled with the dynamic performances of the actresses just made the audience feel as if we were part of Nina's story.
Nina really had her own musical soundtrack. During the play, the audience is able to see the connection of Nina's life and how major milestones matched up with some of her biggest hit songs such as "Mississippi Goddam," "To Be Young Gifted, and Black," "I Loves You Porgy," "The Look of Love," and "The Other Woman." It is also made clear as to how Nina faced racism at a young age by not getting accepted into a prestigious music school, even though she had an impeccable audition, and that moment is what set the tone for her entire career.
Her music was almost like a character itself in the production as it was played to really bring out the emotion of the period and helped in telling her most life changing moments in the most raw way. The audience was able to see Nina go from child prodigy in segregated Tryon, North Carolina to the adoption of her stage name Nina Simone (her birth name was Eunice Kathleen Waymon). Then the tale continues with her transition from being a jazz singer to a protester and even shows how the life and death of her father affected her career.
The actors and musicians did an amazing job with this production and the idea of only having four portrayals of Nina in the cast really helps in telling the story beautifully without being chaotic.
"I really enjoyed this production. The actresses are very talented and they really captured the essence of Nina. I would definitely come see it again," said Joy Olurebi, a theatergoer.
Simply Simone runs now through July 30, 2017. Get your tickets at ensemblehouston.org, as it is for sure a story you do not want to miss.