Pellerin Crowned Miss Black Houston 2017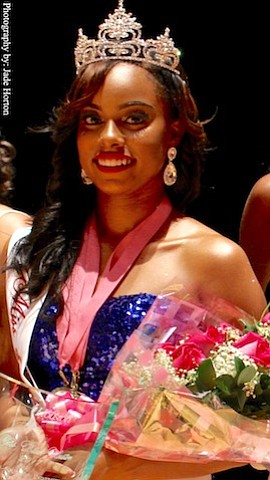 There is a new jewel in Houston's crown and her name is Symone Pellerin. Crowned this past weekend on the campus of Texas Southern University, Pellerin is the first Miss Black Houston after the pageant took a more than ten year hiatus.
Pellerin was one of eight women vying for the title of Miss Black Houston. All contestants competed in the traditional areas of pageantry including fitness and evening gown.

As the new Miss Black Houston, Pellerin has adopted the platform of promoting self-worth and confidence; something she says is a major key for herself. With her platform "You Are Worth It," Pellerin has no doubt that her voice and message will be clearly heard. In addition, she will be the Goodwill Ambassador for the Ronald McDonald House, American Heart Association and be an advocate for STEM education. She will also go on to compete for the state and possibly national title through the pageant's national organization, Miss Black USA.
Being on the TSU campus was familiar territory for Pellerin as she is currently pursuing a Master of Business Administration degree at the university. She also holds a Bachelor of Liberal Arts from the college. She also works at the school as a tour coordinator. Pellerin regularly volunteers for Interfaith Ministries, Feed the Homeless, Meals On Wheels, and is a mentor for a women's fitness challenge group.
During the pageant, two other young ladies were crowned as Miss Black Teen Houston and Ms. Black Houston. Venisha Watts won the title of Ms. Black Houston 2017 in the division for ladies 24 and up while Christian Cargille was awarded the title of Miss Black Teen Houston in the division for teens 14-17. Other awards presented in each divisional category were Miss Photogenic, Evening Gown Winner, Fitness Winner, Miss Congeniality, People's Choice and Spirit of Community Award.
Originally started in 1985 by C. David Pollard, the Miss Black Houston Pageant is currently operated by Operation Win, Inc., a 501 © 3 non-profit organization dedicated to empowering women to achieve their personal, professional and educational goals. Under the direction of Robertine Jefferson and her team, the pageant continues on providing contestants memorable experiences, network opportunities, and the chance to build positive relationships while showcasing their many talents. The bevy of past Houston beauties have gone on to accomplishment great fetes and be productive citizens in their respective communities.
Keep up with the reign of Miss Black Houston and find out more information by visiting MissBlackHouston.org.