Bud Light, Texas and Summer; A Winning Combination
Demez White | 6/9/2017, 12:30 p.m.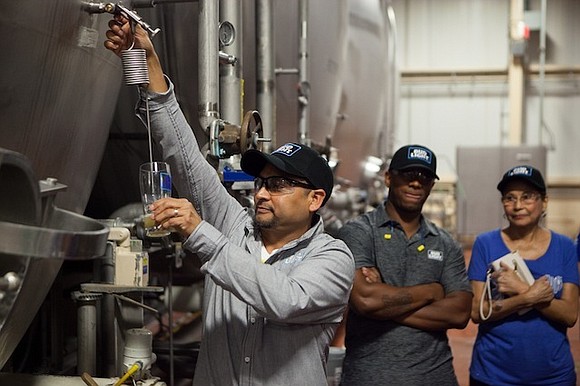 No matter how long you live in a city you can never really know what all that city has to offer, even when things are in close proximately to you. I made a new discovery in my city this week that has been 35 years in the making.
I did not know Bud Light was made twenty minutes from where I grew up. So imagine my surprise when I show up to a tasting at the Bud Light Brewery and not only is it nothing like I imagined, it's even better than what I would've imagined. Bud Light, the classic beer, that has satisfied beer drinkers for years is celebrating 35 years in Texas and decided to give a few of us a world class experience to explore their history, brand sustainability and the future of beer.
First, there were introductions and appetizers. Popping off the experience was James Beard award winning Chef Hugo Ortega of Houston who used the refreshing taste of Bud Light to give the traditional salsa and guacamole a different take that excited my taste buds. With our palettes awaken with the taste of Bud Light; they decided to intrigue us more with a tour of the facility to go behind the scenes of the iconic brand. The facility wasn't terribly interesting own as it looked like an oversized science lab with all the machines and employees doing their jobs but what surprised me was the sense of pride I felt in this unlikely environment. Each person I met genuinely had pride in working for Bud Light. Employee after employee talked about the atmosphere, the company, and how important it was to put out a good product with such passion. It was if they claimed Bud Light as their own personal company.
While on tour what really got me was getting to drink 34 degrees Bud Light straight out of the tap in the factory. And I am not even what you would call a beer drinker but I found myself wanting more. Drinking beer in the rawest form was delicious and had a purity to it that made me feel as though I was on a lake with baby angels massaging my temples. Okay, maybe it wasn't that serious but it was cool.
As we moved from one facility to another I again was reminded of a science lab where the greatest of discoveries are made. The next lab like facility we were shown looked like something straight out of NASA as employees were dressed in lab coats complete with goggles and protective hats analyzing, measuring, charting, and basically perfecting Bud Light as if they hadn't sold one case of beer. Mind you that they manufacture 350,000 cases of beer a day. That's no typo, a day. All the employees seemed to know each other and they all seemed to genuinely like each other, a rare quality that I think makes the brand that much more special. Diversity was also very noticeable throughout the plant.
After a tour of this magnitude, we had worked up an appetite and Chef Ortega delivered with a four course meal that included soup, steak and chocolate cake that all paired perfectly with my beer. And being the responsible company that they are Bud Light did not let us drink and drive but allowed us to drink and ride as they provided an Uber for everyone to make it home safely. Like I said earlier it was overall a world class event and experience.
Bud Light reminded me that even though we see commercials and major events making it feel as though Bud Light is this corporate giant. They're still a simple plant with quality people, providing jobs for Texans. Everything about the place reminded me of why I love being from this state and why I wish them success for another 35 years in the great state of Texas. Bud Light feels like summer and the #BudLightTexas Experience felt like home.