AboutThatCar.com: 2017 Nissan Rogue Sport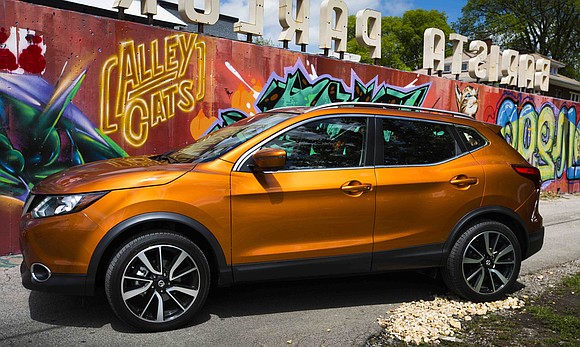 NASHVILLE, TN – Right-sizing is a euphemism for downsizing or subtraction. But the way Nissan uses it means addition. That's the best way to characterize the 2017 Nissan Rogue Sport.
What the automaker has done is add a subset to its Rogue crossover which recently became the brand's best-selling model. What's more it is the fourth best-selling model in the U.S. behind the top pickup trucks.
The automaker will try to adroitly position the Rogue Sport as an urban vehicle and the regular Rogue as more suited to the suburbs. But that is just marketing. Quite frankly, they are interchangeable vehicles. But that does not mean they are exactly same.
The Rogue Sport is smaller, thus, it is easier to get around city streets, so says the marketing position. They've got a point. The test drive took us through the clogged city streets here that were undergoing a bevy of road construction projects.
The crossover had a 2.3-inch shorter wheelbase and overall it was a foot shorter and almost six-inches lower. Still, there was more than 61 cu. ft. of cargo space with the second row seat folded and 22.9 cu. ft. with the second row upright.
The Rogue Sport also had a smaller engine than the Rogue. The Sport was powered by a 2.0-liter four cylinder engine that made 141 horsepower and 147 pound-feet of torque. It was mated to continuously variable transmission.
When we test drove the Rogue Sport, the transmission could have used a little smoothing out. It slightly jerked the crossover into a simulated "gear" when shifting. No doubt these were pre-production models since the Rogue Sport was not due to go on sale until a month or so after our test drive.
We put "shift" in quotes because a CVT does not shift gears. But to gain consumers' acceptance some manufacturers program them to act like normal transmissions. On the Rogue Sport, the CVT was pretty loud under hard acceleration but it moved the vehicle. A couple of times we got close to 80 mph before we realized it and that was without a lot of effort.
The sheet metal of the Rogue Sport was different but not so different as to mistake if for something other than a Rogue.
The Sport's exterior featured a sleek rendition of the V grille. Bulging side fenders, robust lower body sides and a wheel oriented stance, gave the Rogue Sport a really sharp look. The rear body was wide and it had LED boomerang taillights and a rear spoiler.
We think body colored fore and aft bumpers lent to a sophisticated look. There were black wheel arches, roof molding and body-colored outside mirrors that were heated with integrated turn signals.
There were three trim levels of the Rogue Sport: S, SV and SL. All trim lines come in front-wheel-drive or all-wheel-drive models. Thus, Nissan now has a half dozen more crossovers in the hottest segment of the market.
The interior was straightforward. The seats were comfortable; it seemed like the infotainment screen was a little lower than we've seen in other vehicles but it worked. The interior materials were good, sight lines were great. We had unobstructed views on vehicle cluttered streets like Franklin, First, Fifth and Del Rio Pike.