The Hottest Bridal Trends for 2017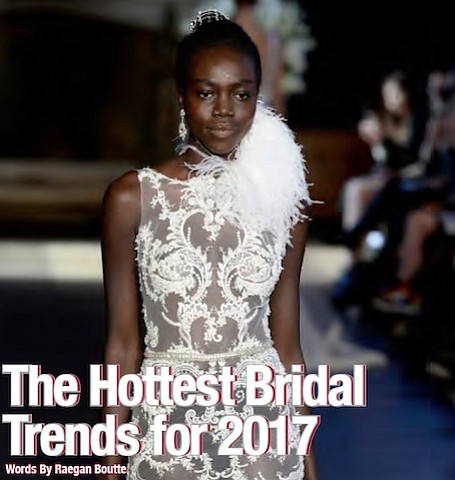 Has your mailbox been flooded with wedding invitations this month? There is a reason for that. The simple answer is it is wedding season and June is the most popular month to get hitch. What is not so popular are traditional weddings. Brides and grooms are getting creative with their nuptials to showcase their unique personalities on their special day. This creativity has spawn some very interesting trends with fashion, cake, flowers, and all the bells and whistles of a wedding.
One of the hottest and most talked about subjects in the industry is bridal fashion. Everyone always wants to know what the bride wore. Hence, brides put a lot of focus on their wedding day look focusing the most attention on their wedding dress. You may be asking yourself what's hot in bridal fashions right now? It seems skin is in or should I say out. Brides are choosing to show a little skin with plunging necklines, low backs, off the shoulder and more. Deciding which style is right for you can be a bit confusing. Allow Houston Style to help ease your tension by breaking down all the fabulous bridal fashion trends of 2017. We have compiled some of the biggest bridal trends to look out for when you're going wedding dress shopping this season. Featured designers include Hailey Paige, Galia Lahav, InBal Dror, David's Bridal, Emilia, Zuhair Murd, and Elie Saab.
1 Off the shoulder and romantic shoulder lines - The sheer elegance of an off-the-shoulder gown is just that. It's classic, romantic, and shows off the bride's feminine side with just a touch of skin and peek-a-boo kissable shoulder. This style is most liked by classic brides. The 2017 version comes with an illusion twist or wrap effect.
2 Plunging necklines – Brides are baring it all by taking it low. Giving off major sex appeal, this bridal trend is loved by brides who want to show off what they have been blessed with in the chest region. Brides are in love with being sexy this year and many designers are featuring this look dipping all the way to the natural waist. Wow!
3 Romantic 3D floral embellishments – Floral accents are the entire rave this year as brides aren't just holding their bouquet as they walked down the aisle but also wearing them. Using the inspiration of floral decorative 3D paper walls, designers are adding these embellishments to bridal gowns to bring brides in bloom. The effect is heavenly and enchanting. Not only does it make the bride glow brighter as all eyes are on her but also looks amazing in photos. What bride doesn't want to feel like her dress is a romantic floral fairy tale?
4 Illusion lace head-to-toe – Forget about lace as paper dollies from yesteryear when it was thought of as old and dated and move into the new century. Lace has been revamped that grandma may want to close eyes. Illusion lace takes the fabric to another level to add a bit of sexy- edginess and give off a modern feel.