Recharge Your Style in the 2017 Chevrolet Malibu Hybrid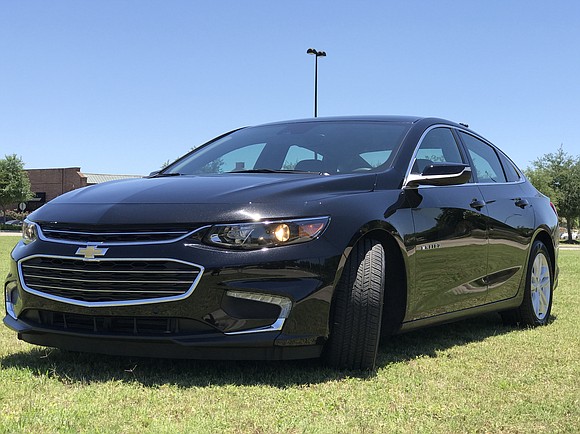 Gas Saver? Check! Spacious? Check! Reasonably Price? Check! All of that and so much more is offered in the all new 2017 Chevrolet Malibu Hybrid. The all new Malibu delivers much substance beyond its shapely styling, from the quiet cabin and generous backseat to the comfortable ride and easy driving. And with the hybrid version, the Malibu delivers best-in-class fuel economy based vehicle testing. Here's a quick rundown of what we like, what we don't and the bottom line from Reggie's auto report!
Through our gracious clients at General Motors, I was able to get behind the wheel of this, simply put, AWESOME VECHILE for a weeklong review. Of course, these days it is all about the gas mileage. I noticed on the highway, the hybrid returned an impressive 49 mpg. And thanks to its immediate electric torque, the hybrid also had a slightly quicker acceleration than the previously tested Malibu Hybrid. After speaking with several hybrid owners, their main concern was a lack of acceleration. I was told more than once, "Those cars just don't pick up fast enough." Well, with the 2017 Malibu Hybrid, that is not a worry!
Let's talk about this RIDE! The Malibu Hybrid proves every bit as comfortable of a ride as it competitors, the Toyota Camry and Subaru Legacy. Of course, driving in Houston we all know our roads can get a little bumpy. Well, here's a plus - the Chevy Malibu absorbs bumps very well and remains composed for the driver. It definitely makes the driving experience more pleasurable. Inside, you will find that the interior is uncluttered and has straightforward controls labeled with large fonts. The perfect example of "Simplicity is Key!" The infotainment system is one of the easiest to use through either the touch-screen or steering wheel controls or an instrument cluster. It's also compatible with Apple CarPlay and Android Auto.
Although the standard vehicle price is $27,770, our tested 2017 Chevrolet Malibu Hybrid had an M.S.R.P. of $28,735.00. A few vehicle highlights included a very sleek exterior design with progressive design cues, sweeping LED headlamps and dramatic side curves. Also, enhanced Chevrolet MyLink comes with a standard 7-inch-diagonal color touch screen with an 8-inch system available. The OnStar with 4G LTE connectivity and a standard, built-in Wi-Fi hotspot was the icing on the cake.
Safety features included ten standard airbags and teen driver warning alert (when the vehicle is traveling at predetermined speeds an alert goes to parents as well as a report to allow them to review driving reports). The driver confidence package included city-speed front automatic braking, front pedestrian braking, IntelliBeam front/rear park assist, and side blind zone alert with lane change alert, to name a few.
This was my second experience behind the wheel of a hybrid vehicle and it was not only fun but also informative. After learning about the different components that make up a hybrid car, I look at them completely different now. If you are in the market for a trendy vehicle and want to save money at the gas pump while being eco-friendly, the 2017 Chevrolet Malibu is highly recommended.
For more information, visit www.Chevrolet.com or visit your nearest Chevrolet dealership!