The Changing Scope of Black Radio in Houston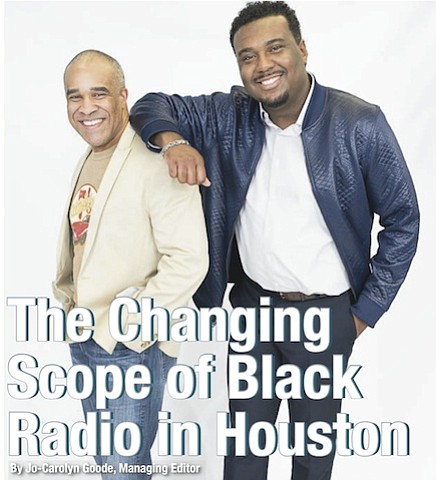 Music has always been a connecting element for African Americans. From the moment we knew there was sound, we have used it to make music as a way to both entertain and communicate. In the early years, music was made with the use of our mouths and body parts. We advanced to add the dimensions of instruments. Those various sounds combine to make beautiful music and our yearn for a larger platform to showcase our musical talents grew.
Finding a home for that outlet proved to be challenging. The natural progression led straight to radio; however, radio was not particularly welcoming to African Americans. The first noted radio station in the U.S. with black programming dates back to 1947 in Memphis, TN on station WDIA. It would be two more years before an African American owned and operated a station. Jesse B. Blayton, Sr. would do so on October 3, 1949, when he purchased WERD-AM in Atlanta, GA. He paid just $50,000 for the 1,000-watt station that he pioneered with programming he called "Negro appeal."
Soon Black oriented stations started popping up throughout the US. Black radio finally made its debut in Texas in the 1950s. KCOH would be more than just Houston's first Black oriented station but the first in the state as well. Robert C. Meeker acquired the station in August 1953. Meeker wanted the station to be more than an entertainment source but also an information source to entertain, educate and inform the public. He established that with the famous looking glass studio so on-air personalities could connect better with audiences. This connectivity took Black radio into the format of talk radio.
KCOH was the voice of Black Houston for decades. Sadly the station fell on hard times and though it tried to stay afloat with different owners and programming to stay on air it could not. Leaving the door open for a new station to catch the ears of Black Houston. KYND 1520 AM is filling that void in an up-to-date way.
"When you look at the community dynamic of KCOH," explained Trent T. Daniel, radio personality at KYND. "It was really centered mostly on local Houston, events, politics and things like. It became a wonderful amazing voice for the city of Houston and the community but when it became to really expanding past those borders that's when KCOH kind of decided not to play in that territory."

Dubbed as a station that inspires change, KYND is a station that is talk radio that is interactive and engaging with those of the young and old using technology as the bridge. This new kind of station also does not want to be boxed in as just a station for the Black community. "We are really a multicultural diverse station that is programmed by Black talent. KCOH is more community and KYND looks at a broader base," said Trent.
KYND reaches beyond the Black community to include Hispanics, Whites, and Asians with programming that caters to their diverse demographic. General listeners are adults ranging in age from 29-64 who are married, self-employed, executives, and/or have household incomes over $75,000. Just as diverse as their listeners are the radio personalities. Younger adults may be pulled in by DJ Supastar, King Motivator Karl Mays, Dr. LaTronica Fisher, and Tosha Evans on topics of the hip hop scene, health and being a better you. While others may gravitate to Dallas Jones, David Anderson, and Houston House Wives of Finance that deal with life issues of politics, personal growth, and finance. Don Sam is a staple of radio that is always there to provide that old school vibe. KYND is the perfect mix for a city that is a great melting pot.