2017 SWAC Tournament "Playing for Pride"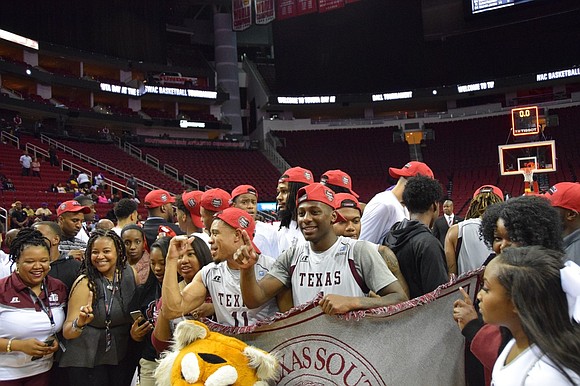 "It was very hard coming into a game knowing that nothing was really on the line but your pride, yet our guys still rose to the challenge," said Head Coach of Texas Southern University Mike Davis. Texas Southern defeated Alcorn State 53-50 to win the SWAC Championship at the Toyota Center. This game was no different than the previous two hard fought meetings, both of which was won by Texas Southern 67-65 and in overtime a win of 94-88. The Tigers had wrapped up a spot in the 2017 NCAA Tournament the night before when Alcorn State defeated Southern University. Alcorn is ineligible to advance past the conference tournament due to academic reasons. Yet, they still came out fighting as if they were playing for a date in the "Big Dance." But on tonight, Texas Southern was the only one with dancing shoes on.
The Tigers were led by SWAC Tournament MVP Marvin Jones who was a constant anchor in the middle on both ends of the floor. His tenacious defensive effort proved to be too much for the Braves. "I feel numb. It's just a blessing. You just have to find faith in yourself and God," said Jones, who was also the 2017 SWAC Defensive Player of The Year. When asked how important Jones was to the Tigers Coach Davis responded, "Here is a kid who on last year averaged 1 point and 1 rebound. To see how hard, he has worked to get to this point, especially after we lost the 2016 Player of The Year (Derrick Griffin). This young man stepped up and made plays for us this year." All tournament players, forward Kevin Scott (15 points and 12 rebounds) and guard Demontrae Jefferson (13 points) made up for the less than stellar performance by 2017 SWAC Player and New Comer of The Year Zach Lofton. The high-powered guard ended the game with 3 points. It was Jefferson's (SWAC Freshman of The Year) five points at the end of the game to end Alcorn's season.
The number two seeded Braves are as talented as they come with three All-SWAC selections in Reginal Johnson, Marquis Vance, and A.J. Mosby, but on tonight only one star came to play. Reginal Johnson led Alcorn in scoring with 16 points and 6 rebounds while Vance and Mosby combined for 9 total points. "Our nemesis all year has been dry spells. Game-to-game it changes up. Last game our offense was flowing, but this game we were stagnant," said 2017 SWAC Coach of The Year Montez Robinson of Alcorn State. Even with the lack of production the Braves had an opportunity to send the game into overtime with six seconds left after they played great defense to tie the ball up with the possession arrow going their way. Coach Robinson drew up a brilliant play for A.J Mosby that rattled in and out. "He is normally, percentage wise, our best shooter from behind the arc. You couldn't have asked for a better shot," Coach Robinson said.
Texas Southern (23-11) has a hard task in front of them starting with #1 seed and ACC regular season champs University of North Carolina who was seconds away from winning the 2016 National Championship. They will face off in the South Region of the 2017 NCAA Tournament in Greenville, South Carolina. "This time of the year everybody is giving maximum effort out there on the floor," said Coach Davis, who has a four-year consecutive streak of playing in the postseason. So, the Tigers once again find themselves right back where they started on Saturday night in the Toyota Center. Playing for Pride. Except this time the head coach wants more. "Everybody thinks, you're in the NCAA Tournament. Make us proud," a very upbeat but determined Mike Davis said. But he has reiterated time and time again that it is more than just making it to the tournament. It's about winning it all, which he almost did with Indiana University back in 2002. We, here at Houston Style Magazine Sports, wish the hometown Texas Southern Tigers all the best. Good Luck.