Alicia Keys Takes Rodeo Houston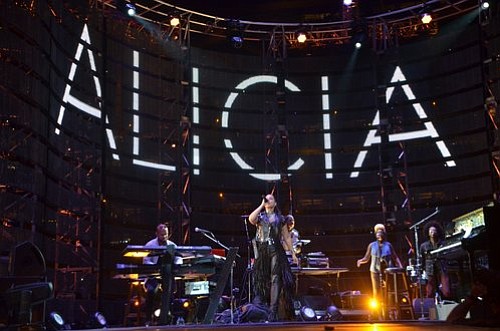 Alicia Keys made this year's Black Heritage Night at Rodeo Houston a success by bringing in over 73,000 people. Even with such a huge crowd, it was very clear she wanted to pull everyone into her performance and feel a connection with everyone there. Keys has not performed at Rodeo Houston since 2005 and it was definitely worth the wait. Despite the crowd being a mixture of people from all backgrounds and ages all were moved by the music of Keys. From playing beautifully on the piano to great vocals, and working it carefree across the stage, she made it sure that only good vibes filled the setting.
Dressed in all black leather, she immediately exemplified power and took over the stage as soon as she walked out and opened with fan favorite "Karma," which was a great touch to actively engage the crowd. Heightening the mood, she flowed into a medley of hits that included "28 Thousand Days" and "Try Sleeping with a Broken Heart."
Songs from her sixth and most recent studio album, Here, such as "Pawn It All" and "Blended Family" also managed to keep the crowd moving. Proving that Keys is still a powerhouse superstar and a force to be reckoned with.
Aside from the melody of hits, it was evident why Keys is a Grammy award winning artist she is amazing live. Every word she sung had such a strong emotion behind it and the piano was a perfect touch. With so much emotion in her voice, she really set an amazing ambiance for a great night and was able to make such a huge setting feel small and intimate.
"I feel like we're having a really intimate basement party tonight, and I feel like if we were in my basement right now, I would want to play a song that sounded like this," said Keys as she went into the intro of "You Don't Know My Name."
Keys is popular among her fans for her ballads that are a perfect mix of soulful and sultry, which makes you wish you had a babe to dedicate a song to them. So she could not do a performance without incorporating some of her most popular songs.
"If you're with me tonight, and you're here for love, I was wondering if you could help me illuminate the sky with your phones," Keys said. "Put a light in the air because life is precious."
Thousands of lights instantly lit up the stadium, making for a gorgeous environment for a beautiful array of songs such as "Like You'll Never See Me Again." She made sure she took her time with this song to showcase the raw emotion behind the song, as well as "If I Ain't Got You" and the song that introduced Alicia Keys to the world, "Fallin."
Keys ended the show by making sure to leave her mark on the Bayou City. She closed the show with "Empire State of Mind" and even changed some parts in the song from saying New York to Houston, which really won over the crowd.
Before leaving the stage, Keys left us with one more message, "I want to thank you for your love. I want to thank you for welcoming me here to your beautiful town."