African American Sorority Targeted In Racist Incident at American University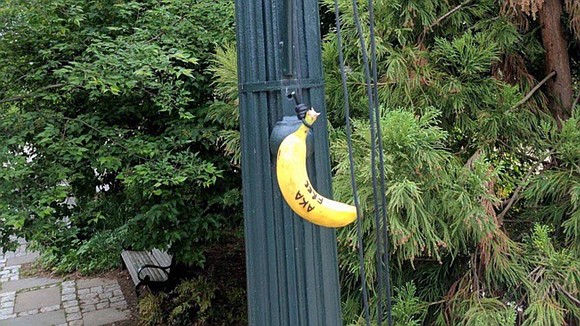 Bring first is certainly not easy. Taylor Dumpson is one who knows. What was supposed to be a wonderful time of celebration and feeling of great accomplishment was turned into something hateful and fearful.
Dumpson made history at American University in Washington, DC by becoming the first African American female to become the president of Student Government. Instead of talking about accountability, transparency, accessibility, and inclusivity as her first act as SG president, Dumpson was reduced to talk about race relations among the student body. "Now more than ever, we need to make sure that members of our community feel welcomed and above all, safe on this campus," said Dumpson on the student government website.
On this past Monday hours after Dumpson was installed as SGA president, American University official were notified of bananas marked with the words "AKA Free," a reference to the first African American sorority, Alpha Kappa Alpha Sorority, Incorporated, of which Dumpson is a member, and "Harambe Bait," a nod to the Cincinnati zoo gorilla that was killed last year. Making matters more threatening were that the bananas found in three locations on campus, at a shuttle bus stop, in front of the Mary Graydon Center, and near another building, were hung from nooses. Bananas have long been associated with racism since some people consider African Americans "apes and monkeys" and bananas are a favorite food of the animals.
This recent incident with the bananas comes after a string of condemning acts done on campus against African American students. In September of last year, an African American student reported having a rotten banana thrown at them and another stated that bananas were left on the doorstep of their dorm room. During the year before, racial slurs were written on the dorm doors of African American students.
University officials have since removed the bananas and the university's Department of Public Safety started an investigation of this most recent incident. A $1,000 reward is being offered to anyone with information. Interim Vice President of Campus Life, Fanta Aw, said in a statement, "These racist, hateful messages have no place in our community. The safety of our students is paramount."
Two blurry, grainy videos have been released by campus police showing someone walking on the campus between 3:45 am and 4:10 am. The person, wearing dark clothes, is believed to be one who may have hung the bananas.
"I regret this happened, apologize to everyone offended, and state emphatically that this incident does not reflect what American University truly is," university President Cornelius Kerwin said in a press release. "While this incident targeted AU's chapter of Alpha Kappa Alpha Sorority ... and occurred after the first black woman and AKA member was sworn in as the Student Government president—our entire university community has been adversely affected by this cowardly, despicable act."
In her own statement, Dumpson said, "It is disheartening and immensely frustrating that we are still dealing with this issue after recent conversations, dialogues and town halls surrounding race relations on campus. But this is exactly why we need to do more than just have conversations but move in a direction toward more tangible solutions to prevent incidents like these from occurring in the future."