First Round Draft Pick For The Houston Texans QB Deshaun Watson Arrives Houston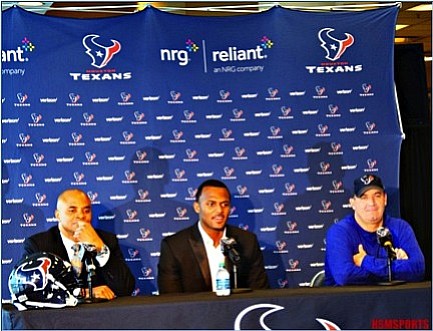 Dressed in studded Louboutin shoes, the #12 pick of the 2017 NFL Draft walked into his first press conference as a Houston Texan just as cool as he walked off the field during his college days at Clemson. With a smiling Head Coach Bill O'Brien and GM Rick Smith by his side, an emotional Deshaun Watson began his life as a professional football player. "My emotions have been sky high ever since I got the call. It's surreal to think I am officially a National Football League player," said Watson when asked how he felt being drafted.
The two-time Heisman Trophy candidate felt like he would call Houston home early in the process leading up to the draft. Watson expressed that his visit to Houston went very well. "I ate lunch with the guys and I felt like I was already on the team. I was comfortable with the situation." Coach O'Brien chimed in on that question as well. "We knew we had something special when he was able to be in a room of over nine people (GM, Coach, Offensive coordinator, etc.) and not feel any pressure. He answered every question we had."
"My focus is to learn this city, learn about the organization, learn this system, and just be the best teammate I can be. And just enjoy that," Watson expressed when asked how he would embrace his role coming into the Texans organization. He also realizes that he is not being given the keys to lead the organization just yet. He smiled when a reporter asked him how he feels being in a backup role. "I know it's going to be a challenge, which is what I'm up for. I'm so anxious to get here and learn from the guys I watched when I was younger in Brandon Weeden and Tom Savage."
The offensive MVP of the NCAA National Championship game finished the press conference exactly the way he started it - calm, cool, and collected. Welcome to Houston Mr. Watson. We look forward to watching you this season.