Pride and Culture: How One Family Lost It All and Came Back On Top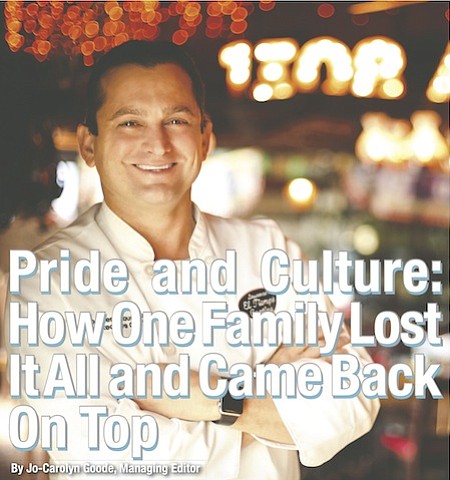 May is one of those months that has a bit more flavor to it. Call it Muy Caliente! Americans of Mexican decent everywhere proudly stick out their chest with pride in celebration of culture and heritage for Cinco de Mayo. Originally celebrated as the day that the Mexican Army overtook French forces at the Battle of Puebla on May 5, 1862, Cinco de Mayo is now a much more spirited celebration in the United States.

No Houstonian could be prouder of their Mexican culture than Chef Domenic Laurenzo. He is the first grandchild of the late "Mama" Ninfa Laurenzo. The only way one couldn't know who Mama Ninfa was is that they have been living under a rock for the past 60 years. Her family has been synonymous with amazing Tex-Mex food in the Houston area for decades.
It all started with a little tortilla factory in the East End of Houston. Mama Ninfa and her husband John opened the Rio Grande Tortilla Factory on Navigation in 1948 selling tortillas, tamales and pizzas to local grocery store chains. That factory birth a larger factory not too far from the first also on Navigation. Not too long after the second factory opened John would die of an aneurysm in 1969.
The death of John was devastating to Mama Ninfa. She had lost the love of her life and was now alone to raise five children. How would she make ends meet? She relied on what she knew best, cooking. After being urged by many in her neighborhood who knew how great her cooking was, Mama Ninfa decided to open a restaurant. She took part of her tortilla factory and turned it into a five table restaurant called Mama Ninfa's, of course, in 1973. Tacos were really the only thing on the menu. Mama Ninfa was famous in the neighborhood for her Tacos al Carbon.
People craved this dish since the meat used was not extremely popular at the time because no one really knew how to best cook it, no one besides Mama Ninfa that is. Mama Ninfa used what we now know as fajita meat to make popular tacos. Fajita meats comes from the diaphragm of the cow. In those days, people threw it out with the trash. However, Mama Ninfa knew better. Using the outskirt of the meat, which is high quality meat, Mama Ninfa would prep the meat by cutting it sideways across the grain, grill it and serve it.
Although her tacos were popular, they weren't popular enough as the business struggled for its survival in the early years. Then magic struck in the eighties and Mama Ninfa's started making a buzz in Houston. So much so that Mama Ninfa's had a chain of locations scattered throughout the city and the original Mama Ninfa became like a Houston landmark. Customers kept coming back because Mama Ninfa's was known for great Tex-Mex that always had fresh ingredients.
With great popularity comes an even greater stress that proved to be just too much for the Mama Ninfa family. In 1996, they would lose everything when they over extended their credit and went bankrupt. Creditors brought them out and Mama Ninfa signed a non-compete agreement for creditors to use her likeness and recipes and everything else in exchange for royalty checks she would receive. This was the second tragic blow to the family. It literally tore them apart after being so close knit.