The Worldly Eats Of The Hard Rock Cafe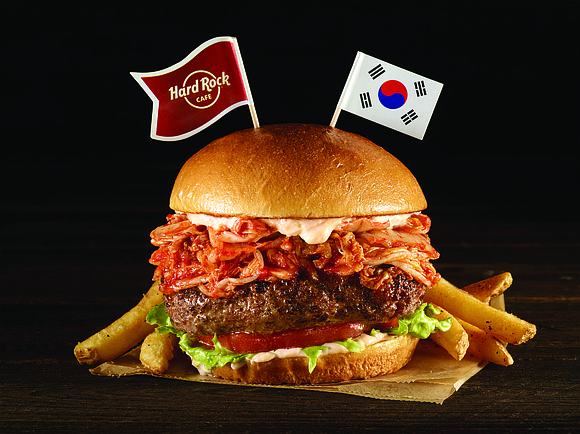 Burger lovers will bring themselves to a venue to try anything. A foodie will simply add to their palate whenever brought into a setting that begs for adventure and optimism. The Hard Rock Cafe, the legendary establishment with the largest collection of music memorabilia in the world, isn't starting anew, it's bringing its vintage look and vital presentation to a modern audience. That starts not only with the World Burger Tour but also an upcoming spotlight on live music with Hard Rock Rising.
We were lucky to be brought in for an exclusive tasting of four different style burgers at the Hard Rock. As we were carefully explained the rich history of the Hard Rock Cafe as well as how much the establishment values, live entertainment and outreach to young musicians looking for their break, the venue's long established chef slowly began wheeling out plates of showcase burgers.
"Our chef's been here for over thirty years," Sales & Marketing Manager Stephanie Harbin told us. "He could pretty much prepare and plate anything."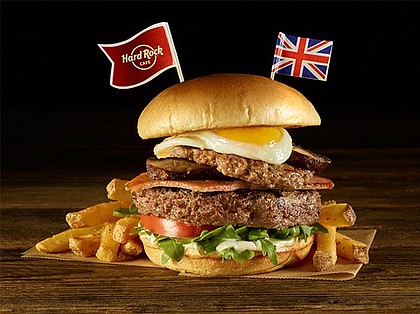 She was selling the chef short. The first two burgers our eyes set upon were the English Breakfast Burger and the Jambalaya Burger. We immediately found ourselves drawn to the English Breakfast Burger solely because of the accentuation of a miniature English muffin for a bun but once we took a bite into it. Senses became in bloom, the roof of our mouths couldn't begin to describe what a delicacy it was. Garlic aioli, baby arugula, ham, bacon, egg, tomato all packed between a regular bun and an English muffin bun on the bottom. "It's pretty much got everything you'd want for breakfast," Harbin said.
It took this writer less than three bites before fully consuming the English Breakfast Burger. Our eyes darted over to the Jambalaya Burger, highlighted by the fact that dirty rice is baked into the burger itself. Imagine a dirty rice patty with tangy Memphis slaw, Cajun mayonnaise, tomatoes, sausage brisket and sliced pepper jack cheese. Now imagine that in a fusion style to make not only your mouth water but also satisfaction dance across your lips and taste buds. Again, we were left wondering whether or not the burgers would stop tasting so good.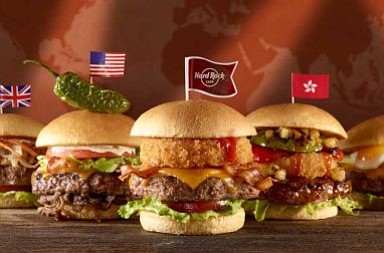 Soon after finishing the first two burgers, the Hard Rock's top handy chef wheeled out two more burgers, a Korean Kimchi Burger & Colombian Plantain Burger. Now, an Asian specific delicacy matched up against a South American mastercraft of a burger, who says no, right? The Kimchi Burger knew what it was before we sat down, a traditional burger topped with spicy kimchi, bulgogi sauce, fresh tomat, lettuce and spicy mayo. In other words, it's the burger ready-made for the spice lover in your life. Before we could decide upon the spicy Kimchi Burger, the Plantain Burger sounded like a more viable third option. A savory and sweet combination of caramelized onions, bacon and Monterey Jack Cheese, the burger came spiked with molasses and topped with fire plantains. Without question between it and the English Breakfast Burger, it was our favorite of the entire tour. Sorry Kimchi Burger, I had already found a favorite lady to dance with.