AboutThatCar.com: 2017 Dodge Challenger T/A 392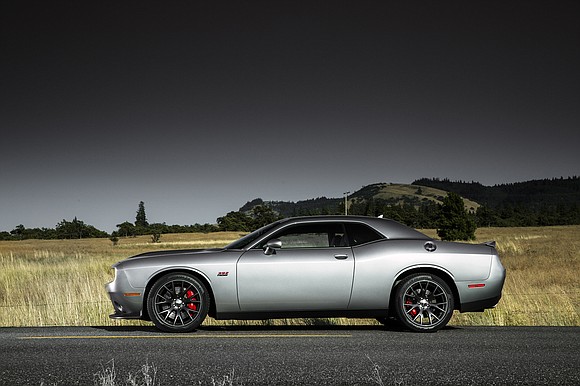 DETROIT – As Dodge evolves into an affordable high performance brand much hoopla has been made over the Hellcat and the Demon. They are two Challengers that generate more than 700 and 800 horsepower respectively. Meanwhile, what I think is the best dollar per horsepower performance car coming out of Dodge, so far, generates little fanfare.
The 2017 Dodge Challenger T/A 392 was a wolf with a paint job that looked like one of its sport appearance packages. It is the 392 moniker that should lift an eyebrow.
Under its hood was a 6.4-liter Hemi SRT V8 that made 485 horsepower and 475 pound-feet of torque. Even better was the six-speed manual transmission that gave me more command over this brute but refined coupe. And there were leather trimmed bucket seats, push button entry and exit as well as push button start and stop.
Those were the basics and you could get the Challenger T/A 392 for $37,995. However, optional equipment upped the price but costs did not sky rocket.
The test car had 20-inch forged aluminum wheels, all season performance tires, Brembo six-piston high performance brakes. A black satin hood, 392 fender decals, a black satin stripe covering the spoiler, deck lid, roof and hood, a gloss black grille and a high definition rearview camera were among a $6,000 option package that included illuminated air catcher headlamps, a cold air intake system and a Rhombi two-piece wheel center cap.
The great characteristic about this car is that it could be driven every day. Yeah, I'd park it in the winter but theoretically it was more than a weekend ride. Besides, there was also a heated steering wheel. There are days and nights in places with winter climes that the pavement is dry.
The Challenger T/A 392 got 14 mpg in the city, 23 mpg on the highway and 17 mpg combined. True, that is not great; not even near great, but for a car with almost 500 horsepower that's not bad.
I never felt beat up after I got out of this Challenger. In other words, the suspension was firm but not firm to the point of being jarring. The test car had a 2.75-inch electronically controlled active exhaust system to deliver a signature Dodge muscle-car sound. Its tone was really good from the first push of the ignition button.
Handling was great. The Dodge Challenger responded to driver input like a go-kart. It was that exact. The clutch didn't wear out my leg; it engaged with relative ease and the passenger compartment didn't feel like a cave; an upside being a full midsize coupe.
There were two drive modes: Sport and Super Track Pak. It was digitized, gave specific information on horsepower, torque output and oil pressure in real time, G-force generation, time keeping and much, much more.
There were automatic high beams and rain sensitive windshield wipers. Other interior options included heated and cooled front seats, a power tilt and telescoping steering wheel. The car also had blind spot warning and rear traffic alert.
And of course there was an 18-speaker premium audio system, a sunroof, and a GPS navigation system as well as satellite radio. The only downside was the $1,000 gas guzzler tax.
Still, for $54,155 as tested the 2017 Dodge Challenger T/A 392 was a steal.
Frank S. Washington is editor of AboutThatCar.com.