HPLQ Reading Series Presents: A Talk & Tasting Featuring Bestselling Author Chitra Divakaruni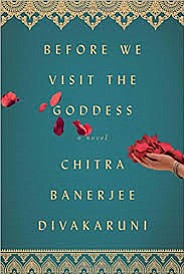 Houston Public Library Quarterly (HPLQ) Reading Series will be featuring a A Talk and Tasting with bestselling author Chitra Divakaruni. Divakaruni will be discussing her most recent novel Before We Visit the Goddess. There will be light bites and book signing. This event is free. Reserve Your Seat Today! For details visit www.houstonlibrary.org or call 832-393-1313. The event will happen on Wednesday, November 8, 2017 at 7 PM at the Houston Chronicle office | 4747 Southwest Freeway, 77027
About the the Book
In her latest novel Before We Visit the Goddess, Divakaruni explores the relationships between mothers and daughters and the different kinds of love that bind us across generations. This work captures the gorgeous complexity of multi-generational and transcontinental bonds, sweeping across the twentieth century from the countryside of Bengal, India, to the streets of Houston, Texas
About the Author
Chitra Banerjee Divakaruni is an award-winning and bestselling author, poet, activist and teacher of writing. Her work has been published in over 50 magazines, including the Atlantic Monthly and The New Yorker, and her writing has been included in over 50 anthologies, including The Best American Short Stories, the O.Henry Prize Stories and the Pushcart Prize Anthology. Her books have been translated into 29 languages. Several of her works have been made into films and plays. She lives in Houston with her husband Murthy and has two sons, Anand and Abhay, who are in college. Connect with Chitra on Facebook!
About the Houston Public Library
The Houston Public Library (HPL) operates 35 neighborhood libraries, four HPL Express Libraries, a Central Library, the Houston Metropolitan Research Center, the Clayton Library Center for Genealogical Research, The African American Library at the Gregory School, and the Parent Resource Library located in the Children's Museum of Houston. With more than eight million visits per year in person and online, HPL is committed to excellent customer service and equitable access to information and programs by providing library customers with free use of a diverse collection of printed materials and electronic resources, Internet, laptop and computer use, and a variety of database and reference resources with live assistance online 24/7.
For further information visit the Houston Public Library at www.houstonlibrary.org on Twitter@houstonlibrary or call 832-393-1313.