Stand with Day for Night and Houston's Society for the Prevention of Cruelty to Animals (HSPCA)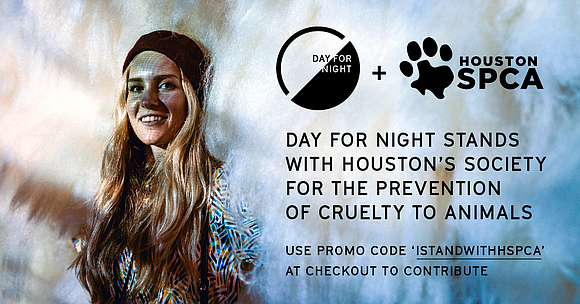 Hurricane Harvey had a profound impact on not only the people of our region but also its animals. According to the Associated Press, over 60,000 people and their animals remain displaced from their homes over a month after the storm hit. From the beginning, the Houston SPCA has worked tirelessly to meet their needs.
Immediately after the storm struck, the HSPCA's highly-trained swift-water rescue teams spent eight days in boats rescuing animals from flooded homes. Their 24-hour injured animal rescue ambulances, the only ones in the region, conducted land rescues of abandoned, lost and injured animals. Houston is a city diverse in people and animals - the HSPCA worked with partners to address the tremendous impact on horses and farm animals throughout the region. Following Harvey's landfall, the Houston SPCA has cared for over 2,300 dogs and cats, over 80 displaced horses, farm animals, and native wildlife.
Their ultimate goal is the reunification of these lost domestic animals with their original owners and the rehabilitation and release of the wildlife into their native habitats. To accomplish that goal, the HSPCA partnered with Texas Veterinary Medical Association, the Texas Veterinary Medical Foundation, Finding Rover; and Adopt-a-Pet. The resulting innovative and extraordinary programs were designed to help reunite storm victims with their families through facial recognition technology, provide 45 days of foster care through partnerships with veterinary hospitals and initiate peer-to-peer fostering for animals until people can rebuild their lives. As of October 6, 2017, 305 Harvey victims found safe, secured foster care in veterinary hospitals and 243 animals, including over 40 horses were reunited with their original owners.
Enter the discount code 'IStandWithHSPCA' at checkout between the dates of November 14-20 and save 20% while raising much-needed funds for this great cause.
Buy your tickets now to contribute.