St. John's UMC and Beyonce's BeyGood Partner to Host Royal Feast Benefitting Hurricane Harvey Disaster Relief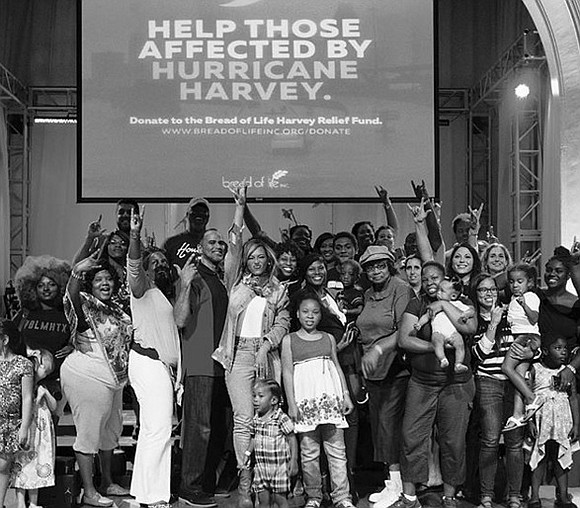 Thousands of homes destroyed. Businesses turned upside down. Lives lost. Destruction was at every turn. In the midst of all the turmoil, magic happened. Neighbors began helping neighbors. Everyday citizens became heroes. First responders pushed past their limits. Everyone was in overdrive. Hurricane Harvey came to cause harm but only made Houston stronger.
"The beautiful thing about this moment that we are experiencing in Houston is how people have come together across racial lines, across socioeconomic lines, to really help each other and to be a neighbor," said Pastor Rudy Rasmus of St. John's United Methodist Church otherwise known as Beyonce's church. "When I think about the place where we find ourselves right now I am just encouraging people to give and serve out of there own poverty and depression. If you really want to arrest those conditions the best way is to find a way to serve or find a way to give to someone else who might be experiencing an even more difficult challenge and subsequently you will find the light will come back in your own life."
He will be giving back and providing that light as a thank you this weekend to those first responders and other volunteers who provided assisted to those affected by Hurricane Harvey. Calling it a Royal Epicurean Thanksgiving Feast, it is the brainchild of Katherine Flowers, Executive Director of The Bread of Life, Inc. Pastor Rasmus said Flowers' goal was to give back and encourage those who needed it during this time of recovery.
Who couldn't feel encouraged while dining on turkey, duck, and lamb? He laughed as he told me how well people would eat. "It is going to be a big day for the community!" In addition to the lavish menu, attendees will also be treated to star entertainment and even get to hang out with some celebs that will serve as waiters. Now Pastor Rasmus was mum on which celebrities would make surprise appearances but did say some would definitely be there.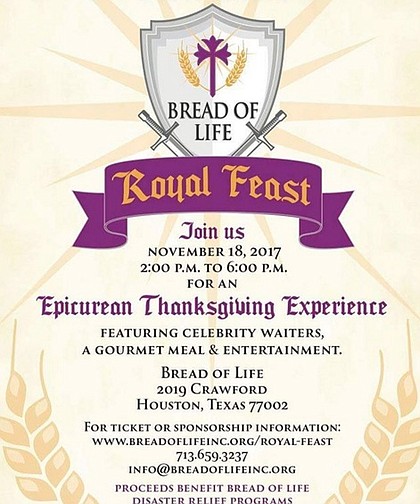 Neither Beyonce nor any of her family has confirmed their attendance but her presence will certainly be felt as she is supporting the effort through her BeyGood Houston Foundation. "We joined forces in the wake of the storm. As soon as the rain stopped I got a call from Beyonce and her team," recalled Pastor Rasmus. Houstonians will remember that Beyonce, her mother Tina, and daughter Blue Ivy were in Houston in September serving food and supporting Harvey relief efforts. Pastor Rasmus said Beyonce also met with about 400 families to have a special moment during that visit as well. He also mentioned what a big supporter rapper turned actor Ludacris and his mother, Roberta Shields, have been since the very beginning.
Hurricane Harvey has really made his foundation and the church stretch their resources because of the sheer number of people coming to them in need of help. "Right after the storm we immediately localize to resource the community in even more ways than we already resource the community." He is grateful for donors near and far. One of his biggest supporters over the years has been the Houston Food Bank who has increased their food donations to the Bread of Life, inc. in the aftermath of the storm.
As much help as he has received, additional assistance is always needed. Houstonians wanting to help can do so in one of two ways. The first is to give financially by donating through the foundation's website breadoflifeinc.org or going down to St. John's United Methodist Church to make a donation in person. The second way is to give of your time by volunteering this weekend or any day at the Bread of Life. Just log onto to the website to sign up or call 7136593237 for details on how to volunteer.
"We are basically open seven days a week. We are giving seven days a week. The work for us happens every day," said Pastor Rasmus. Join him and his team on Saturday, November 18th from 2-6pm at St. John's. Tickets can be purchased online at breadoflifeinc.org. Proceeds will benefit Bread of Life Disaster Relief Programs.