Andre Johnson Day: Houston Texans Defeat Arizona Cardinals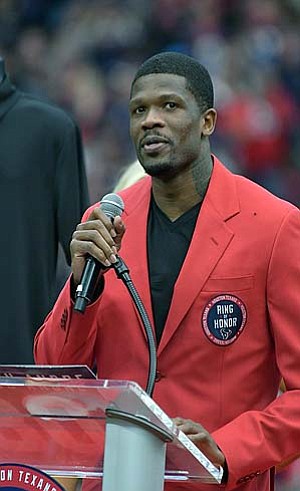 The Houston Texans gave the franchise leader in receiving yards, receptions, and touchdowns, Andre Johnson the best gift he could receive on the official, "Andre Lamont Johnson Day," a victory. Houston ended a three-game losing streak by defeating the Arizona Cardinals 31-21 in front of a very enthusiastic crowd who came to celebrate with the hometown hero.
Johnson became the first player in team history to be inducted into the Houston Texans Ring of Honor during halftime. "I just wanted to come here and play. Just do things the right way. I just wanted to be a good football player," said Johnson during his speech. He went on to say that he wanted to do everything he could to put this franchise on the map, and the loud roar of the crowd proved he did.
Another Texans smiling today was QB Tom Savage. Starting in his fourth game of the season (he was the opening day starter before being pulled at halftime for D. Watson), Savage had a rough first half after he committed two second quarter turnovers that resulted in touchdowns for the Cardinals. Yet he found a way to bounce back in the second half to lead the Texans to a much needed win and finished the day 22-32 for 230 yards passing and 2 touchdowns. Head Coach Bill O' Brien had some encouraging words when he was speaking about his quarterback. "I thought I'll be honest with you. I thought he played a very mentally tough game," O'Brien said.
The Texans offense also got a boost from the running game. Rookie running back D'Onta Foreman had a very impressive outing by averaging 6.5 yards a carry and two touchdowns. His final touchdown was a 34 yard scamper into the end zone that helped put the game away, but it came with a price. Foreman was carted off the field in the fourth quarter with an apparent ankle injury.
WR DeAndre Hopkins also had a good performance on Sunday. Although the numbers won't jump out on the stat sheet (4 catches, 76 yards, and 1 TD), it was Hopkins 19.0 yard average per catch against arguably one of the best defensive backs in the game in Cardinals CB Patrick Peterson that was impressive. "If I could play against him every Sunday, I would," Hopkins replied when asked about the matchup.
If there has been one constant in the Texans' play, it has been the disruptive play of LB Jadeveon Clowney and the rest of the Texans defense. They came up big again by forcing two key interceptions to stall drives for the Cardinals in the second half. When asked how important getting those turnovers were, Clowney responded with, "It was very big. It put our offense in a good situation."
For as happy as the crowd of over 71,000 in attendance was for the win, the day clearly belonged to the former all-pro WR Andre Johnson. Cardinals' future Hall of Fame WR Larry Fitzgerald had nothing but positive praises for Johnson. "He was the most dominant receiver in the game for a large part of his career and had a positive influence on a guy following in his footsteps in DeAndre Hopkins," said Fitzgerald.