Toyota Corolla iM: The Ideal Merger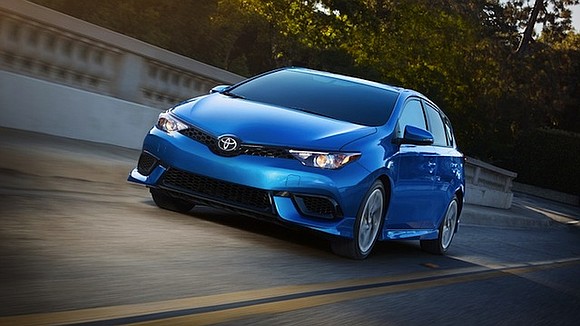 If given the choice between something small or big, most will pick the larger. We have been trained to believe that bigger means better. However, bigger can also be wasteful. Size is everything. Our eyes are sometimes bigger than what we can hold and we dispose of the excess. Finding the perfect size that is right between too little and too big to get that happy medium is challenging. Somehow Toyota has managed to make the ideal merger in the compact car, Toyota Corolla iM 5-door hatchback.
When thinking small one thinks less. Don't think that when it comes to the Toyota Corolla iM think more. The list of features that come standard are quite impressive so there is not really a need for additional option packages. Plus, the starting price of $18,750 is not bad for everything that is equipped with the vehicle. Toyota pretty much stayed true to previous models by only adding a few advanced features and a slight price increase for the 2017 version. Overall, the Toyota Corolla iM is a lot of car for not a lot of money.
Usually, I would describe vehicles like the Toyota Corolla iM as cute but with the style this vehicle has cute seems inadequate. There is major attitude happening with the exterior design. Starting with the standard 17-inch alloy wheels Toyota draws consumers in with the intricate spin design and midnight black highlights. Attention is grabbed from the front and the back with sporty details that are further enhanced by its MacPherson strut front suspension and double-wishbone rear suspension. Outside mirrors are heated and retractable. LED daytime running lights illuminate the night to make the vehicle seen and the road more visible.
On the inside is where smaller vehicles can have problems trying to provide enough space for passengers, storage, technology, and other features. Toyota struggles a bit with space as the driver and front passenger have ample head and leg room but because of the hatchback design backseat passengers have less leg room space. On the same token, if more cargo space is needed, the hatchback area is large and becomes larger when back seats are flipped down. Another problem for smaller vehicles is the difficulty that comes when passengers try to gain access to the backseat. There's no problem with the Toyota Corolla iM due to the big, wide doors making getting in the backseat a breeze.
Driving the Toyota Corolla iM is the best. Whipping in and out of traffic is a snap. Fitting into small spaces is a cinch. It is very easy to drive. Acceleration is smooth due to excellent CVT. However, accelerations at high speeds is noisy and a little slow in comparison to competitors. Going from 0-60 mph in 10 seconds, the Toyota Corolla iM is powered by a 137-hp 1.8-liter four-cylinder. EPA fuel estimates are good at 27-mpg city and 35 mpg highway.
Safety is of the utmost importance to Toyota. Eight airbags, tire pressure monitoring, lane departure alert, whiplash injury lessening seats, and a start safety system to help with traction and braking are all standard. Keeping driver and passengers even safer is the standard Toyota Safety Sense C system that assists in preventing frontal collisions in certain situations by alerting the driver with audible and visual warnings.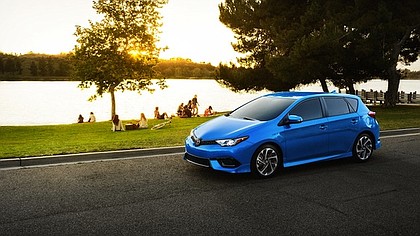 Technology is also key. With dual climate controls, 7-inch touchscreen display, navigation, backup camera, Aha Radio, Bluetooth, and so much more, the Toyota Corolla iM gives more than what drivers bargain for. Advanced voice recognition and steering wheel controls make it easy for the driver to keep their eyes on the road while adjusting the radio, making a call, or turning on cruise control.
Not too small and not too big, the Toyota Corolla iM really is the perfect merger in size, technology, safety, and performance. It provides everything a driver needs a nice package. Find out more about the Toyota Corolla iM 5-door hatchback at Toyota.com.