50+ Killed in Las Vegas Strip Massacre; Gunman Had 10 Rifles, Police Say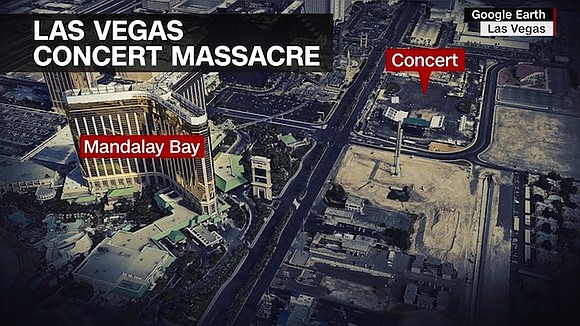 By Holly Yan, Susannah Cullinane and Philip Victor, CNN
(CNN) -- Thousands of country music fans ran for cover as a gunman fired on them from a hotel on the Las Vegas Strip -- a mass shooting that is now the deadliest in modern US history.
More than 50 people were killed Sunday night when the shooter fired hundreds of bullets into the crowd, police said.
Over 400 others were rushed to hospitals after the mass shooting and ensuing stampede at the outdoor Jason Aldean concert.
The gunman, 64-year-old Stephen Paddock, unleashed a hailstorm of bullets from the 32nd floor of the nearby Mandalay Bay hotel, Las Vegas Metropolitan Police Sheriff Joseph Lombardo said.
Inside his room, authorities found a cache of weapons, including 10 rifles, the sheriff said.
"We believe the individual killed himself prior to our entry," Lombardo said.
Festival turns into massacre
The massacre started around 10:08 p.m. Sunday (1:08 a.m. ET Monday) at the Route 91 Harvest festival, Lombardo said.
Taylor Benge was enjoying the concert with his sister when he heard a relentless onslaught of "200 to 300" bullets.
"My sister, being as noble as she is, threw herself on top of me and said, "I love you, Taylor," the 21-year-old said.
"Even after an hour and 30 minutes, I didn't know if I was safe."
Police said they believe Paddock acted alone. "Right now, we believe it's a sole actor, a lone-wolf-type actor," the sheriff said.
But why the massacre happened remains a mystery.
The investigation
So far, the massacre has no known link to overseas terrorism or terror groups, a US official with knowledge of the case said.
And a woman described as a "person of interest" after the attack is not believed to be involved in the shooting, police said in a statement.
"Marilou Danley is no longer being sought out as a person of interest," the Las Vegas Metropolitan Police Department said. "LVMPD detectives have made contact with her and do not believe she is involved with the shooting on the strip."
The gunman's brother, Eric Paddock, said he was stunned to learn Stephen was responsible for the deadliest mass shooting in modern US history.
"He was my brother, and it's like an asteroid fell out of the sky," Eric Paddock told CNN outside his home in Orlando, Florida.
The last time he spoke to his brother was when Stephen texted him, asking how their mother was doing after losing power from Hurricane Irma.
Eric Paddock said he knew his brother owned a few handguns and maybe one long rifle, but said he did not know of any automatic weapons.
Blood donations needed
With hundreds of victims still hospitalized, officials feared the death toll will keep rising.
The sheriff implored the community to donate blood. And before dawn, throngs of donors had already lined up outside a blood bank.
Shanda Maloney tweeted a photo while she stood in line at 4:30 a.m.
"This. Is. Vegas. This is our community. These are our people. Thank you to everyone here donating," she tweeted.