Black Chamber Honors Lifetime Achievement Award Recipient Tom Joyner During 23rd Annual Pinnacle Awards Show That Will Raise Funds For Disaster Relief Fund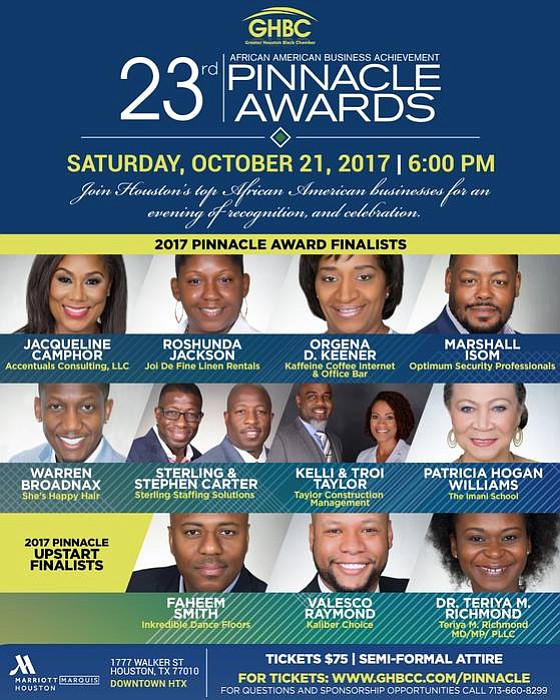 HOUSTON, TEXAS — [October 6, 2017] – On Saturday, October 21, 2017 at 6:00 pm the Greater Houston Black Chamber (GHBC) will host the 23rd annual Pinnacle Awards at the Marriott Marquis located at 1777 Walker Street. The Pinnacle is regarded as the most prestigious award bestowed upon African-American entrepreneurs who have not only succeeded in business, but have positively impacted the communities and industries they serve in the Greater Houston metropolitan area.
Tamar Davis, Broadway featured actress and Grammy nominated singer will host the awards show honoring Lifetime Achievement Award winner Tom Joyner, "The Hardest Working Man in Radio." Local favorite live band Indiepocket will perform during the event and will provide entertainment for the dance party upon the completion of the show.
Of the eight contenders, four will receive the coveted Pinnacle Award. This year's nominees are: Marshall Isom of Optimum Security Professionals; Sterling & Stephen Carter of Sterling Staffing Solutions; Warren Broadnax of She's Happy Hair; Orgena D. Keener, Kaffeine Coffee Internet & Office Café; Jacqueline Camphor of Accentuals Consulting, LLC; Roshunda Jackson of Joie De Fine Linen Rentals; Troi and Kelley Taylor of Taylor Construction Management, LLC; and Patricia Hogan Williams of The Imani School.
The GHBC will also award the 2017 Upstart Award, which recognizes business with operations of less than two years, entrepreneurial prominence and upwardly trending financial growth. A $2,500 cash prize will accompany the Upstart Award sponsored by LaneStaffing. This year's finalists are: Faheem Smith of Inkredible Dance Floors;Dr. Teriya M. Richmond, MD, MPH, PLLC; and Valesco Raymond of Kaliber Choice LLC.
Pinnacle tickets are available at ghbcc.com/pinnacle or call (713) 660-8299. The event attire is semi-formal for 2017 and GHBC is offering a discounted individual ticket price of $75.00 this year as well in lieu of Hurricane Harvey. Portions of event proceeds will benefit the GHBC Disaster Relief Fund designed to assist Black-owned businesses affected by the storm.