Samuel Pena: A Man with A Servant's Heart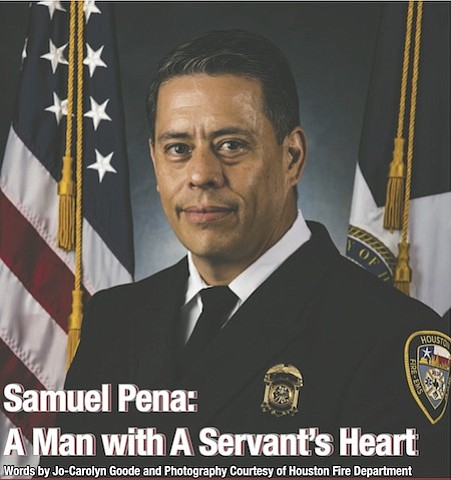 When others run away from the fire, Samuel Pena runs towards it. And he's been doing it for more than 20 years because he's a firefighter.
Beginning his firefighting career in 1994, in his hometown of El Paso, TX, after serving a four-and-a-half-year stint in the Air Force, Pena rose through the ranks. He was a paramedic, media spokesperson, advanced medical coordinator, a member of the Combined Search and Rescue Team, Hazardous Materials & Special Rescue Task Force, and Training Chief for the El Paso Fire Academy before he would become the Fire Chief. That experience would grow a desire for a bigger challenge, so he took on the job of Houston's Fire Chief. Officially sworn in December 2016, Pena has been Houston's Fire Chief for nine months. Not too bad for a guy who became a firefighter simply because he just needed a job.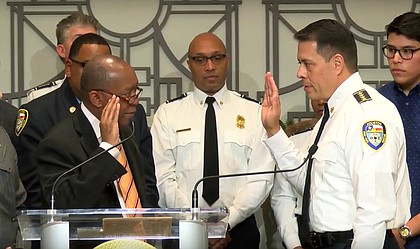 As a young boy, Pena didn't grow up dressing up like a firefighter. Nor did he pretend to put out fires during his playtime. He never even uttered the words, "When I grow up I want to be a firefighter." What he did want was a service career where he could help people and be at home more with his wife and children. "What I did have in my heart was that I wanted to be in a capacity where I would be able to serve others and make a positive impact in people's lives," said Pena. With degrees in criminal justice and business, he thought he could fulfill his purpose with either the police or fire department. He applied for both and the fire department called back first with an offer for him to suit up. "Twenty-two years later and it worked out well, " said Pena.
In his time as a firefighter, Pena has developed a satisfaction about his ability and opportunity to be able to serve others, improve working conditions, and improve the health and safety of citizen. "I think that is what's most rewarding about careers in fire service. "
As much as it is a rewarding career, it has it challenges, especially when you are the head guy. Coming into the position of Houston's top fire guy, Pena was faced with the pressing issues of a shrinking budget, aging fleet and the need for professional development. All of which need funding to be handled but we are all aware of the city's budget constraints and so is Pena. Still, he is confident and optimistic that solutions will be developed to tackle these issues. His source of certainty comes from the people of Houston's willingness to be apart of the solution. "We will find a way to meet the community's expectations and do it so that it is responsible to the taxpayers and acknowledges the good work of firefighters," confirmed Pena.
Already he has gained some positive results. Recently, signing a new labor management agreement, Pena hopes this will be leverage in aiding in the development of a working dialogue with the labor department to efficiently manage the organization.