Standing with Jemele Hill Is Standing On The Side of Right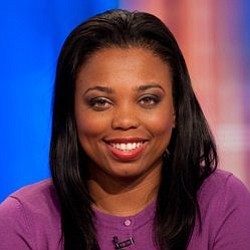 Two weeks ago, Jemele Hill became the most famous, or somewhat infamous sports-media personality in America.
When she spent a night breaking down why the current President of the United States could be correctly called a "white supremacist," it became yet another talking point for talking heads from other networks with an apparent conservative leaning to declare that ESPN, Hill's employer, had a liberal agenda. They argued that Hill should be fired or at least suspended for her remarks about the President, citing that former MLB pitcher and ESPN analyst Curt Schilling was terminated for racist, xenophobic posts on his personal Facebook account. ESPN released a statement and hastily took Hill off of her 6 p.m. SportsCenter show with Michael Smith. The statement made the situation worse as ESPN had to deal with the brunt of backlash on both sides before Hill ultimately returned to her post.
In the last month or so, the President has created a full-on war against NFL players, those of whom are majority black, for protesting the national anthem before games. He's used rallies and his Twitter account to lambast the league, its players, and its owners and to create a culture war between wealthy, black athletes, white ownership and his overwhelmingly white base. That fight has trickled down to NFL ownership which, in the wake of the President's remarks decided to buck at him with the empty posturing of "unity" have reverted to defending ideas of "patriotism," all the while flatly ignoring the reason why the protests were taking place.
On Sunday, after Dallas Cowboys owner Jerry Jones flat out drew a line in the sand in support of the President's message about the flag, Hill returned to Twitter voicing the concern of many a supporter of the Cowboys. Jones had put players livelihoods over their humanity and dignity. And although she did not call for a boycott of the NFL, she did allude to the one thing that may sway Jones' mind on all of this: advertisers. So ESPN, in a basketball sense, gave those who wanted Hill suspended for calling the president a "white supremacist" a makeup call. She was suspended two weeks for what the network deemed a "second violation" of their vague social media policy.

By taking power away from Hill, ESPN has only enhanced it further. Because Hill's voice, louder and smarter than ever can be better used as a weapon at ESPN rather than anywhere else. ESPN knows that. Her suspension, though ridiculous, will no doubt charge up more people who had quit the NFL as former San Francisco 49ers quarterback Colin Kaepernick, the genesis for last year's anthem protests, remains unsigned.

In a recent op-ed of her own for ESPN's race and culture website The Undefeated, she wrote, "My criticisms of the president were never about politics. In my eyes, they were about right and wrong. I love this country. If I didn't, I wouldn't want it to be better." Those critiques can go hand in hand with a league that pushes an enhanced risk for opioid addiction on its players, the risks of brain damage after retirement and a continued disregard for the validity of assault, sexual and domestic, perpetrated by its players against women. Considering that ESPN pays millions, if not billions of dollars to broadcast Monday Night Football, it is a relationship that has long been in question.
Patriotism shouldn't be compulsory. Even if Hill's tweets ran into a company policy that doesn't explicitly outline what is and what is not out of bounds, they aren't enough to consider her outright termination. And standing by her for saying something that wasn't on company letterhead or said directly on ESPN programming shouldn't warrant a suspension either. The right side of history in regards to civil rights is staring everyone in the face. Choosing dignity overall shouldn't be a hard choice of morality, it is the only choice.