Cheryl Thomas Fortune: A Fighter Winning the Battle of Life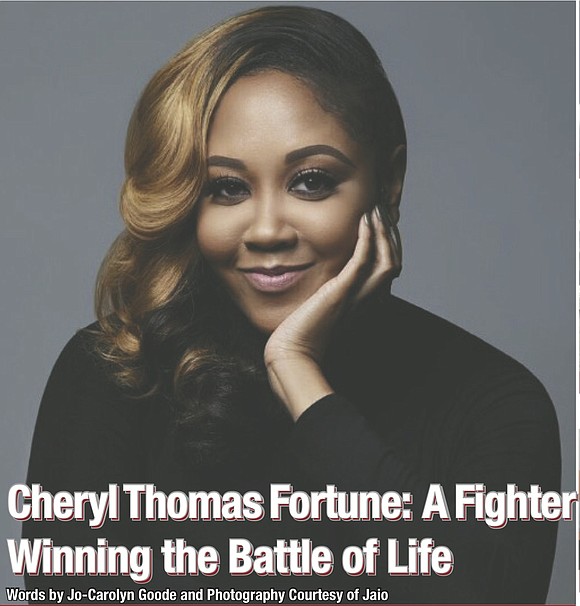 Music has always been a constant in Cheryl Thomas Fortune's life. From taking piano lessons as a child to singing in the high school as a teen to continuing her passion into a booming professional career as an adult, music is her friend. And this friend, coupled with her love for God and her faith in Him, has allowed her to weather through some pretty tough storms and come out as a fighter winning the battle of life.
Hearing Fortune sing with such power and conviction one would never know that singing was not her first love in the area of music, instruments were. Growing up in the Thomas family household, the rule was all children had to take piano lessons. Not a problem for Fortune because she loved the piano. "I just loved all types of instruments," admitted Fortune, who also played the handbells and sung in the children's choir at church. She didn't really get into singing until she got to high school under the direction of her choir director Ina Zellers. Fortune's love for the piano was so great that she figured that she would join her high school's choir to accompany them on the piano. The catch was in order to join the choir she had to audition by singing to be in the choir. Fortune sung Whitney Houston's I Believe the Children Are Our Future and blew Zellers away. "Oh my gosh, you have an amazing gift," Fortune recalls Zellers saying to which Fortune replied, "Oh, ok really." Laughing now, Fortune said, "I could sing and yes it was in my family I just loved the piano. So yeah Ms. Zellers was apart of my singing thing. It was hard but it was good for me."
Good for her indeed. Singing at Ross S. Sterling High School did allow Fortune to do what she loved like playing the piano in UIL competitions and helping the choir with warm-up drills but it also birth other gifts like songwriting. "Not too many people knew that when I was growing up because I didn't really do it a lot but in high school, I started writing little things and writing little songs. I ended up doing it a lot more after that. And I love it. It's a passion of mine." The passion led her to write songs for and sing background for artists like Kirk Franklin, Fred Hammond, Zacardi Cortez, Shirley Caesar, Bishop T. D. Jakes, Isaac Carree, Monica, and the list goes on. "I don't think I ever imagine me being in this place," said Fortune but what a place to be in. However, it wasn't an easy journey to get there. She doesn't look at her past with regret but with a grateful heart since her journey is what has prepared her for this point in her life now.
As a childhood friend of Cheryl Thomas Fortune, I have had the privilege of hearing her voice develop over the years. I sang next to her in our church's children's choir. I walked the halls with her in high school. I shared many hugs, laughs and good times with her parents (who will celebrate 57 years of marriage next year) and her entire family. I sat in the audience and cheered her on at her concerts. Even though I had that front row seat to moments in her life, I never knew all that she has had to endure. I slowly found out like everyone else.