Exclusive Furniture Hits The Ground In The Wake Of Harvey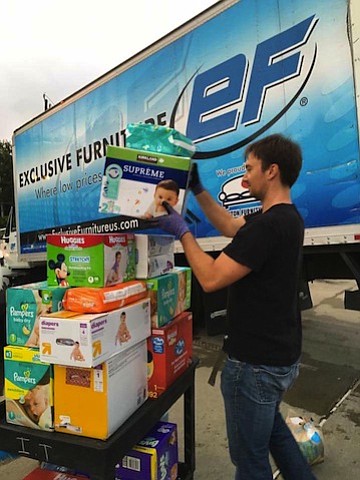 For many Houstonians, Hurricane Harvey meant two things: before the storm and after the storm. After a few hours of wondering when the storm would actually hit, the city became battered with heavy rains for six consecutive days, resulting in historic flooding that the city had never experienced before. By the time the rain had stopped, the city of Houston along with Beaumont and Port Arthur had sustained more than 50 inches of rain or about four-feet, breaking the national record.
In the aftermath of the storm, Houstonians big and small began helping out their communities in an effort to rebuild our city. One of those Houstonians was Sam Zavary, owner of Exclusive Furniture. With multiple stores stretched across the Greater Houston Area, Zavary spent the days during and after the storm helping out with donations and driving his truck to hard hit areas. Houston Style Magazine spoke exclusively to Zavary about the efforts of his team, securing donations and assisting the community in any way possible.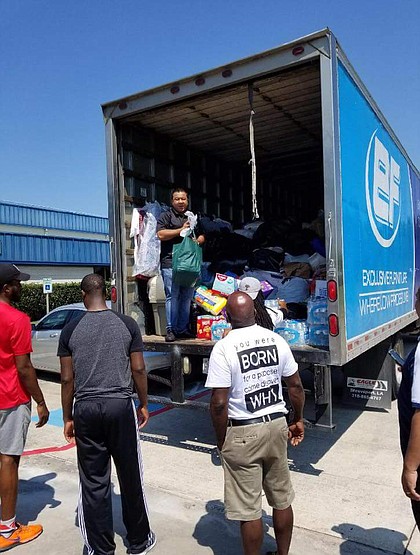 HSM: First and foremost is your family and home, is everything okay?
Sam Zavary, Exclusive Furniture: We're great, everything is pretty good. One of my stores did flood.
Which store location is that?
The clearance center in Humble. The back half of it flooded
Do you have access to it yet?
Yeah, yeah we cleaned everything up, threw away the trash and we opened back up for business … this past Friday.
Great! So I know you've guys have been giving out supplies and so forth at the other stores. Can you speak on that?
So, it all started on Tuesday. When we started on Tuesday we basically said we were going in the morning. I was almost flooded in myself until Monday, my house was almost flooded. I had about four feet of water on the Northwest side of Houston where I live. So finally Tuesday I decided, 'Man I gotta get out!' So I had a guy pick me up from a boat outside to take me to an area that was a little more dry. From there my brother picked me up and we drove to the Southwest side of Houston. From there, we went to the SAMs and Wal-Mart off of Highway 59 and West Airport and bought up everything.
We bought 500 packs of diapers, 20 cases of water and other items. By that time I had done a Facebook post and someone responded saying, 'I have about 100 cases of water.' We went and bought about 1,000 towels, about 2,000 socks and I don't remember the exact number but we bought a ton of items. We bought a whole bunch of dog food and we figured we were going to drop it off at various locations such as churches and more. Some of the locations such as small churches weren't set up yet for donations so then we decided to head over to Lakewood Church. Now, Lakewood, they took some of the stuff from us but they said, 'Hey listen, we see you have a 28-foot truck, can you take some of these items off of us?' So we grabbed clothes, comforters and bed sheets and other items because they were taking in so many donations. About 12 to 15 drop offs per minute.