Exclusive Furniture Hits The Ground In The Wake Of Harvey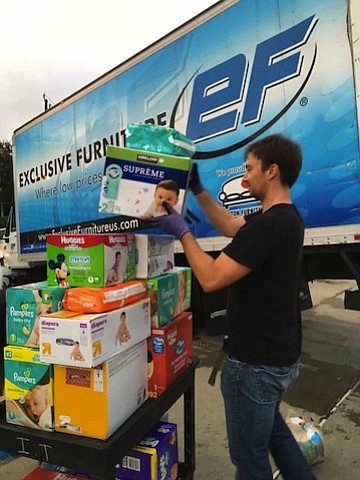 For many Houstonians, Hurricane Harvey meant two things: before the storm and after the storm. After a few hours of wondering when the storm would actually hit, the city became battered with heavy rains for six consecutive days, resulting in historic flooding that the city had never experienced before. By the time the rain had stopped, the city of Houston along with Beaumont and Port Arthur had sustained more than 50 inches of rain or about four-feet, breaking the national record.
In the aftermath of the storm, Houstonians big and small began helping out their communities in an effort to rebuild our city. One of those Houstonians was Sam Zavary, owner of Exclusive Furniture. With multiple stores stretched across the Greater Houston Area, Zavary spent the days during and after the storm helping out with donations and driving his truck to hard hit areas. Houston Style Magazine spoke exclusively to Zavary about the efforts of his team, securing donations and assisting the community in any way possible.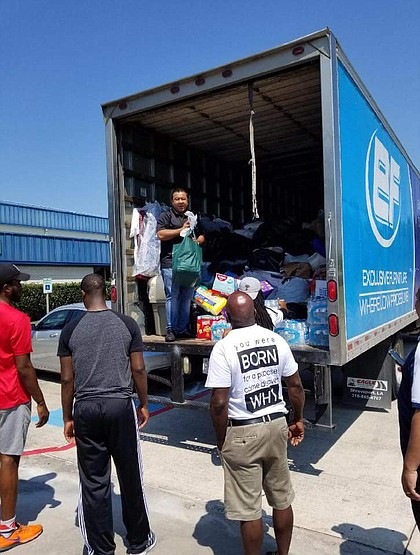 HSM: First and foremost is your family and home, is everything okay?
Sam Zavary, Exclusive Furniture: We're great, everything is pretty good. One of my stores did flood.
Which store location is that?
The clearance center in Humble. The back half of it flooded
Do you have access to it yet?
Yeah, yeah we cleaned everything up, threw away the trash and we opened back up for business … this past Friday.
Great! So I know you've guys have been giving out supplies and so forth at the other stores. Can you speak on that?
So, it all started on Tuesday. When we started on Tuesday we basically said we were going in the morning. I was almost flooded in myself until Monday, my house was almost flooded. I had about four feet of water on the Northwest side of Houston where I live. So finally Tuesday I decided, 'Man I gotta get out!' So I had a guy pick me up from a boat outside to take me to an area that was a little more dry. From there my brother picked me up and we drove to the Southwest side of Houston. From there, we went to the SAMs and Wal-Mart off of Highway 59 and West Airport and bought up everything.
We bought 500 packs of diapers, 20 cases of water and other items. By that time I had done a Facebook post and someone responded saying, 'I have about 100 cases of water.' We went and bought about 1,000 towels, about 2,000 socks and I don't remember the exact number but we bought a ton of items. We bought a whole bunch of dog food and we figured we were going to drop it off at various locations such as churches and more. Some of the locations such as small churches weren't set up yet for donations so then we decided to head over to Lakewood Church. Now, Lakewood, they took some of the stuff from us but they said, 'Hey listen, we see you have a 28-foot truck, can you take some of these items off of us?' So we grabbed clothes, comforters and bed sheets and other items because they were taking in so many donations. About 12 to 15 drop offs per minute.
Oh wow.
So we loaded up everything and took it to George R. Brown. By the time we got to George R. Brown, they even said they don't want anything. Now, we have a whole truck full of stuff from Wal-Mart and SAMs, a truck full of stuff from Lakewood and then Lakewood called me back asking us to pick up more stuff. So now we have two trucks full of items. I get a phone call from Pasadena on Tuesday, the first day people could actually get out of their homes and we donated to small churches. By that time, I heard that BBVA Compass Bank Stadium was open for donations so we went and dropped off the diapers and other items. By then it was 10 p.m. and the curfew had just started to go into effect at midnight, so we rushed home. The next day, we started all over again making donations at small churches and small shelters. If you go on the Exclusive Furniture Facebook page, you can see all of this.
So we did all of that on Wednesday. We did 7 or 8 drops on Thursday. By Friday we said, 'Oh wait, our store is now open -- why don't we do this at the store?' Because people were calling us up going to the store thinking the store was open to collect donations! We decided to go on the 45 South side of Houston where our store is over there. So on Friday night we set up from 10 to 1. Let me put it this way. We got there around 8 to set up everything. We were supposed to get a truck from Florida on Saturday that never came. So instead, we bought $11,000 worth of items from SAMS, Wal-Mart and Family Dollar. All of our own money, not anyone else's money and on that Saturday we were dropping items off from 10 a.m. to 7 p.m. because people would not stop coming. And they were so disappointed when we didn't have stuff.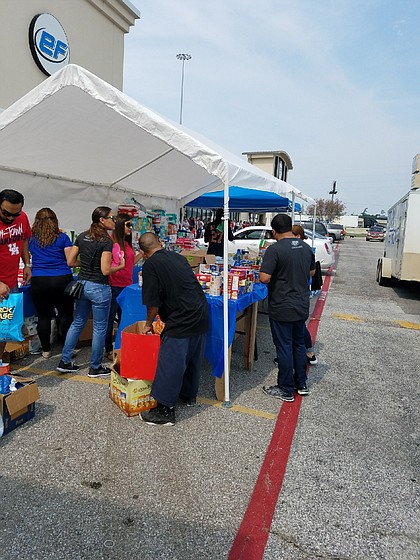 Was there anyone who came from out of town?
Yes! There were two girls who somehow drove from San Antonio that saw our efforts on Facebook and dropped off 32 cases of water and 18 to 20 packs of diapers. The truck from Florida didn't show up until 6:30 p.m. on Saturday. We knew those guys were tired, the sun was tiring us out. So we basically said that we would get back going tomorrow. By then this thing has caught on fire. We have people who keep sending us stuff. I get to the store around 9:30 a.m. Sunday and there's already 100 people in line. By the time we set up at 11 o'clock, there's about 400 people in line.
Oh my goodness.
We thought about cutting off the line but instead we opted to head back to Wal-Mart and SAMS to pick up more items. Then we had a guy who came by and handed out 3,000 bottles of water, he and his family. They unloaded every single case themselves. It gave me a different sense because he wanted to show his daughter how it is. It was really admirable how it is. That day we started around 11. By 2:30 we ran out of every single thing and we ended up serving on 473 people on Saturday and 562 on Sunday. Come Monday, we were tired, you know? We wanted to do business. So on Sunday, while I was doing all of this, a woman called me from Arkansas wanted to send donations and I sent her to St. Charles Church on the Northside. Real nice girl, her name is Tiffany Morales. They dropped all the stuff at the church even though they wanted to go to the Humble location but had a blow-out. I had a friend call me who said he had an 18-wheeler worth of donations and I told him to go to St. Francis church to unload. By the time it was all said and done on Monday, we had unloaded everything at St. Francis and the other locations.
I'm one of those guys where if you call me, I'll feel bad if we can't get the items out to them. So we went and bought even more stuff. So yesterday, Alief Taylor calls me and tells me we need to go to Wharton to drop off clothes. We bought $2,000 worth of stuff before and they ended up sending us money because they continued to see what was going on. People donated this money and we had to put it to use. The principal at Alief Taylor … they have done a lot. They built up a truck load of stuff, a surplus of clothes and stuff. Three of my guys went to Wharton with the supplies we bought and dropped it all off. So we've spent so much time running and dropping off items. So, what we're trying to do is on September 16 is collect about 1,000 twin mattress that we can donate to families who were affected by floods.
Amazing.
A lot of people were in need, you know? But also a lot of people were being taken advantage of. So we're going to probably do it at the West Oaks location on Highway 6. Because there are a lot of people who probably can't afford putting things back together in the wake of the flood. 80% of everything we've done? It's located on our Facebook page. Social media definitely helped us aiding so many people during this and we can't begin to thank everyone for reaching out.