A Houston Paramedic Who Saved Lives During Harvey Now Faces Potential Deportation With DACA Ruling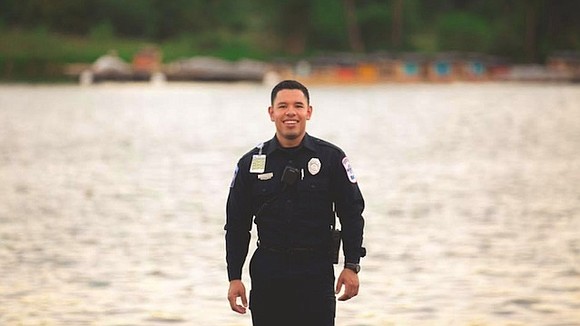 Life for Houston-area paramedic Jesus Contreras has not been the same since Hurricane Harvey. Contreras worked six consecutive days, rescuing people from floodwaters and taking some individuals to local area hospitals. Contreras' job through the hectic days that followed the storm's initial landfall on August 24 made it impossible for him to consider his own well-being throughout.
"It was emotional because you're seeing people go through some of the hardest moments of your life," Contreras said. "It shook up our entire community."
Contreras helped people who needed insulin for diabetes treatment, dialysis for failing kidneys or any other life-saving medical machines. For a while, Harvey was the only storm he had to worry about. That is until last Thursday, when President Donald Trump mulled over ending Deferred Action for Childhood Arrivals or DACA.
The program, which was enacted during the Obama administration protects undocumented immigrants who, like Contreras, were brought to the US as children from deportation, while also granting them permits to legally work. On Tuesday, Attorney General Jeff Sessions announced that the President would be ending DACA within the next six months, calling for Congress to come up with a replacement before he begins phasing out protections.
"Hearing that my future in the United States is being threatened and possibly taken away was disheartening, it was disappointing," the 23-year-old said. "It was like getting an extra kick to the face when you're already down."
Nearly 790,000 young undocumented immigrants received work permits and protection from deportation under DACA, according to the latest figures from US Immigration and Customs Enforcement (ICE).
For many immigrants under DACA protection, the news combined with Harvey came as a double whammy. Some are trying to rebuild after the hurricane. Now they may not even be allowed to rebuild in the first place. In Contreras case, had DACA been rescinded during the six days he spent rescuing people via his ambulance, he would have been pulled away and unable to help those in need.
"To think that could've happened potentially at a time like this when people need us is terrible," Contreras said.
Contreras arrived to America at the age of 6. His mother was fleeing the Mexican state of Tamaulipas. Citing drug crime and rising violence, Contreras' mother chose to flee to the United State in order to provide for a better life for herself and her son. In Houston, those who fall under the DREAM Act and DACA have been on the ground, helping, volunteering and coordinating shelters for relief. Without their assistance and aid, Houston may still be struggling to recover from the historic flooding left by Harvey.
"I'm a man of faith and I have faith and hope that things will work out for us and we can rest easy," Contreras said. "I want people who are against us to know that we are proud Americans, we have a lot of pride in this country, and that we're going to stay here to fight and to help each other."