The Storm We'll Never Forget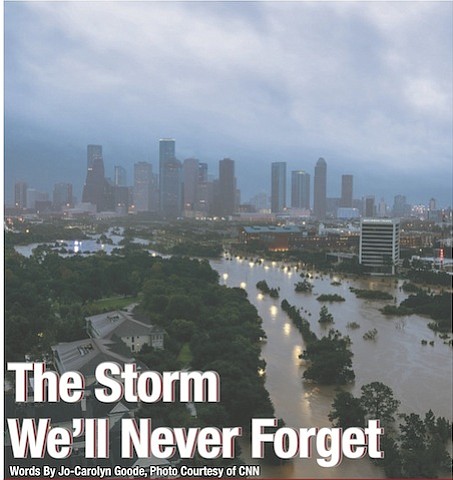 Five storms etched in Texans' memory top the list as being among those as the most costly and deadly.
On September 7-9, 1900, Galveston, TX was hit by the country's deadliest storm in history wiping out two-thirds of the island's population at the time, an estimated 6,000-to-8,000 people. A record 10 inches of rain fell causing $30 million dollars in damages. Winds reached 125mph making a storm surge of 15 feet for the Great Galveston Hurricane prompting a project to elevate the city and build a 17-foot seawall that now protects Galveston.
Breaking records with the largest evacuation in history is Hurricane Carla that struck land on September 11, 1961. The Texas coastline was hit with hurricane force winds up to 175 mph resulting in a 22-foot storm surge. An estimated 43 people died. That number could have been higher if it was not for the orchestration of the largest evacuation for a particular area at the time. Rainfall totals were between 11-19 inches in different parts of the state causing damage to 1.7 million acres for a total destruction cost for Texas of $408 million.
Although September is the most popular month for hurricanes, August would be imprinted in the minds of Texans in 1970 when Hurricane Celia made landfall on August 3rd. Corpus Christi, TX would take the brunt of the storm damage with 8,000 homes and 90% of the buildings in the city being demolished or totally destroyed. About nine tornadoes were formed by the hurricane that produced a storm surge of 9 feet. Fifteen deaths were recorded and damages totaled $500 million dollars due to wind damage that reached a maximum speed of 180mph.
Hurricane Katrina was the storm that made Houstonians "woke" so much so that before Hurricane Rita struck Texas some months later, millions left their homes making it the largest evacuation on record for U.S. history. Over 100 people would die on the roadways due to dehydration. With maximum winds of 175mph, Hurricane Rita devastated Florida, Louisiana, and Texas. Fifty-nine people would die in Texas due to the storm that had damages costing $10 billion.
Rounding out the top five is Hurricane Ike that rolled in on September 12-15, 2008. Forming off the coast of Africa in late August, Hurricane Ike teetered between being a category 2 and category 4 storm. It weakened a bit by the time it made it to Texas but brought a severe storm surge along the Texas coastline. More than 2.5 million people lost power in Texas and Louisiana. Hurricane Ike would claim the lives of 84 people and leave a trail of destruction costing $19.3 billion dollars.
And then there was Hurricane Harvey. Making landfall in Houston during the wee hours of August 26th, Houstonians thought we were prepared for the wind and the rain. However, Harvey was a different kind of hurricane that we weren't use to having. Usually, hurricanes did their damage and moved on. Harvey had an extended stay visit in Houston drowning the city with more than 50 inches of rain for three days straight. Once the rain did stop, life was still on lockdown. People were either trapped in their houses surrounded by water, stranded in other buildings in the city surrounded by water, or on the rooftop of their vehicle or home surround by water. Streets became lakes and highways became rivers. The only means of transportation was by boat or helicopter. An estimated 30,000 people would be evacuated or rescued to some 200 shelters within the city and thousands more would stay in hotels, with family, or transported to other parts of the state.