The Storm We'll Never Forget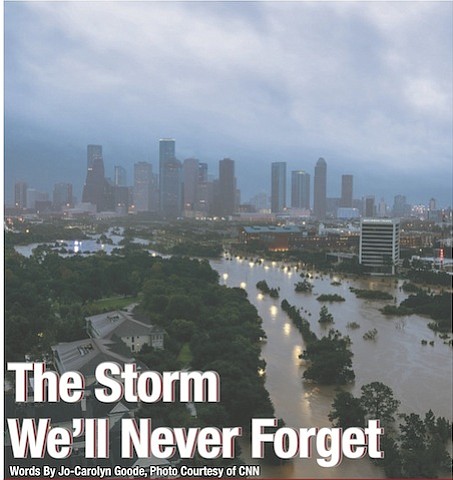 In the midst of tragedy, there is always a silver lining and so it was for Houston. Gone were political parties, race debates, and negativity, as Houstonians and the world gave Houston a huge hug and helping hand. People banded together to help their neighbor. Although our usual heroes of the Houston Police Department, Houston Fire Department, and first responders were there but so was the man down the street who just so happened to have a boat. And the lady who knew her neighbor was too old to fend for herself in such a situation so she made sure she was rescued. So were the people that formed a human change to rescue another soul sinking fast in his vehicle. And then there were those strangers from other states near and far who drove to Texas with their boats because their heart told them they just had to help. The human spirit prevailed over everything and it was beautiful to watch the outpour of pure love for your fellow man.
Also shining through was the strength of Houston's leadership. Houston has one heck of a mayor in Sylvester Turner. His team with HPD Chief Art Acevado and Judge Ed Emmett kept Houstonians safe. Past history told him that a mass evacuation of millions of people from the fourth largest city would have been catastrophic. So he ordered a shelter in place and stood by his decision, no matter how he was challenged. He ordered a curfew when citizens had to evacuate to protect their homes from looters. He made sure to stretch Houston's limited resources as far and wide as he could to reach not some, but all. He did what he thought was best and unapologetic for it because the buck in Houston starts and stops with him. He proved that he does not waver under pressure but is cool, collective and a man of action. He stood for Houston and that is #HoustonStrong.
It is still too soon to say how much damage Hurricane Harvey caused. It will be a number for the record books. Texas Governor Greg Abbott estimates that Harvey's damage in Texas will be at least $180 billion dollars. Rain totals have already made history. It has been more than a week after the storm and there are still parts of Houston that are under water. Tons of people are still displaced and don't know where they will start to rebuild their lives. Houston has moved from rescue to recovery and that recovery is going to take weeks-to-months.
Hurricane Harvey changed Houston. It made us know what is truly important and valuable. Material things can be replaced but not people. Rebuild your house, buy a new vehicle, replace the things you think you need and be sure to hold extra tight to the people you love and care for the people you pass for one day they might be your unknown hero. Harvey is definitely the hurricane we'll never forget.
Source: Texas Hurricane History – weather.gov